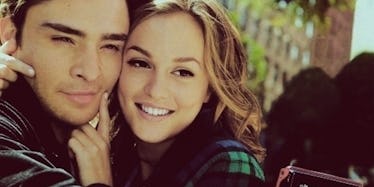 Chuck And Blair From 'Gossip Girl' Were Never Supposed To Be Together
Warner Bros.
I woke up in a v. good mood this morning thinking it would be a normal Sunday.
But boy, was I terribly mistaken.
While I was casually strolling to work with PSL in hand, I learned that life as we know it has been a complete and utter LIE this entire time.
We've pretty much all been fooled.
And by all of us, I am referring to my hardcore "Gossip Girl" fans out there.
Let me start off by saying I am totes not OK right now and in major need of another PSL STAT to cool the heck off.
So, I advise all of you guys out there to get one before reading this and prepare for what I'm about to drop.
The co-creator/writer of "Gossip Girl," Josh Schwartz, revealed to Vulture Chuck Bass and Blair Waldorf were never supposed to actually be a thing.
"UM, hold up one hot second here… WHAT THE ACTUAL F?!?!" was my initial reaction to this news.
Chuck and Blair's twisted, yet adorable relationship ended up being super romantic back when in my teeny-bopper days.
*Low-key still is in my book*
Schwartz opened up to Vulture, saying,
None of that was expected. Chuck came into the show as the villain. But it's one of those great, fun things about making a television series — it's an evolving, living, breathing thing, and things can easily change on a whim.
Could you even THINK to imagine "Gossip Girl" without Blair and Chuck's epic romance? The thought of it actually makes me want to cry into my pillow for weeks.
Schwartz went on to say,
You get an actor like Ed Westwick and see the chemistry he had with Leighton Meester, and their scenes just crackled.
OK, thank the LAWD this ended up working out between the two of them, because if NOT, this would be a world without Chuck and Blair's incredible love.
Citations: Gossip Girl Co-Creator Josh Schwartz on the Enduring Romantic Legacy of Chuck Bass and Blair Waldorf (Vulture)