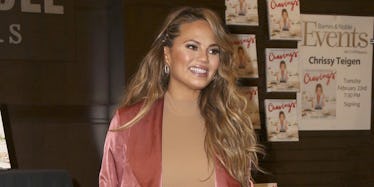 Chrissy Teigen Had The Most Hilarious Reaction To A Fire Drill At Her Hotel
Shutterstock
For the record, Chrissy Teigen is NOT good when it comes to emergencies.
Basically she had an absolute face-palm moment while staying at a hotel.
The mom was chilling with little Luna when suddenly a fire alarm went off. In her panic, she grabbed her baby and ran outside dressed in next-to-nothing.
Then she remembered she'd been told there would be a fire drill -- but by that time she was so freaked out she literally threw up everywhere.
Truly thought it was over for us. Can never show my face around these employees ever again — christine teigen (@chrissyteigen) June 30, 2016
Chrissy had no choice but to do the walk of shame back to her room.
Luckily, for the sake of our entertainment, she wasn't too ashamed to share the hilarious incident on Twitter and Snapchat.
Here she is clutching on to Luna, having saved her from the blazing inferno that never was. Also, she's basically dressed in just sheets.
And here's the warning from hotel staff the fire drill was going to take place and guests shouldn't worry...
Chrissy, you toolbox.