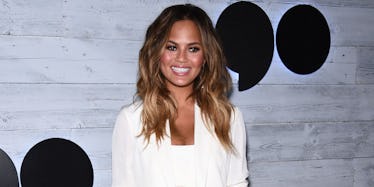 Chrissy Teigen's Face Swap With Baby Luna Will Seriously Creep You Out
Shutterstock
We all have that friend who's a new mom.
Every. Single. Time. You want to snap a selfie with her, she face swaps with a photo of her baby last minute, because all of a sudden she's more obsessed with her impossibly gorgeous offspring than she is with you.
On Wednesday night, Chrissy Teigen was that friend. She shared a Snapchat of her and a pal, except the supermodel's signature smile was nowhere to be found.
Teigen face swapped with a photo of her and husband John Legend's newborn daughter, Luna.
As terrifying as it is to see a newborn rock long, blonde hair and snap a selfie with a grown-ass woman, this does give followers an idea of what John Legend would look like as a beautiful lady.
After all, baby Luna looks a LOT like her dad.
Perhaps, a year or two from now, Teigen and Legend will have a second child that bears a striking resemblance to his or her momma, and the family can continue this freaky face swap carnival.
Their friends will just have to get used to it.