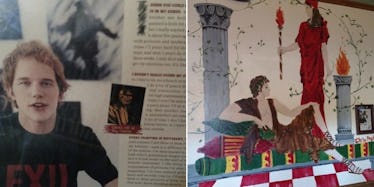 Chris Pratt Painted An Artsy Mural In A Greek Restaurant As A Teen (Photo)
Entertainers often call themselves "artists," but Chris Pratt is one of the few who can say it and really mean it.
The proof?
Before becoming a successful actor, the born-and-bred Washingtonian once painted a mural for a local pizza joint in his hometown of Lake Stevens.
The mural of a fictional scene in Ancient Greece was apparently first revealed as the actor's work in 2003.
In a piece for the now-defunct Teen People magazine, Pratt confirmed the mural was his work, explaining,
I guess you could say painting is in my genes. My dad and brother are both artists. I painted a little bit growing up, but I really started getting into it about five years ago… I've done murals in my high school gymnasium weight room and a Greek scene on the wall of my friend's restaurant.
The mural, which appears to still be displayed prominently on a wall inside Omega Pizza & Pasta, was recently rediscovered by an Imgur user who posted photos of it to the image sharing site.
While it's unclear if Pratt still dabbles in traditional art, the fact that he once did only makes us love (and envy) him even more.
I mean, really, he's funny, he's smart, he's talented — is there anything this dude can't do?
See his work below.
Pratt's Grecian mural is featured inside Omega Pizza & Pasta in Washington.
The owner reportedly said Pratt used to work at the restaurant as a dishwasher.
Back in 2003, Teen People covered Pratt's work for a feature called "Passions."
The article was found hanging in the restaurant beside Pratt's mural.
Citations: Want to see a mural that a young Chris Pratt painted we thought so (Mashable)