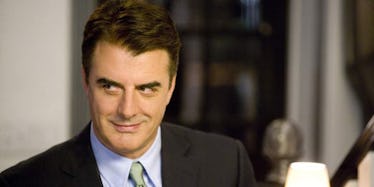 Chris Noth Never Wants To Play Mr. Big On 'Sex And The City' Again & Here's Why
HBO
I guess there isn't one more story left to tell, at least according to Chris Noth. The actor best known for portraying Carrie Bradshaw's lover, Mr. Big, on Sex and the City is not interested in ever reprising his most famous role ever again. That's right — Chris Noth never wants to play Mr. Big again, as he told Us Weekly recently.
Though there have been murmurs of a third Sex and the City movie floating around continually since the second film came out in 2010, Chris Noth made his position on the franchise clear: He thinks SATC has told its story and he's ready to focus on other projects.
I feel like we told that story. I don't think there's anything left for me to say about that. I want to tell other stories.
Granted, Noth did play this character for 12 years, so it's totally understandable for him to want to branch out a bit. The real issue is it sounds like a third movie is in the making, so does Noth's comment mean Big won't appear in the flick? It sure sounds like it. I guess Carrie is going to have to find a new love... or there will just be a lot of one-sided phone calls and "Big is out of town on business" cover-ups.
Although Big grew to become a fan favorite on the show, Chris Noth admitted he doesn't really understand all the love for his debonair moneybags character. He guesses fans may have just loved his sense of style, but asserts Big was never "the one that got away," as he's often portrayed.
I accept it. I may not understand it but I accept it. I think they just love the fashion. The thing that I don't understand is the idea of Mr. Big, because – he wasn't the guy that got away. They were always dance partners. Sometimes they went away for a little while and she had a bunch of other guys and he got married.
Another issue Noth had with Big? He never got to be funny. The actor went so far as to compare Mr. Big to Donald Trump in his unlikeability, saying he really wishes the writers had given him funnier, more human moments to help ground Big instead of turning him into some suave millionaire.
Humor, man! Don't make me into this suave guy! Don't make me into a Trumpesque millionaire. Humor!
Sex and the City 3 is just an idea floating around right now, so Chris Noth still has time to change his mind if it ever becomes a reality. It just wouldn't be a Sex and the City movie without Big, although I'm sure you Aidan fans would argue otherwise.