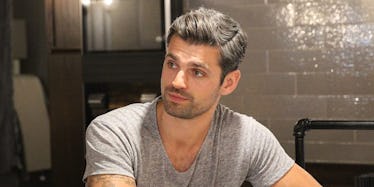 Chris Harrison Gives Hope For Peter Fans, Says He "May Be A Good Bachelor"
ABC/George Burns
Are you #TeamPeter? Have you been feverishly looking up who this Arie Luyendyk Jr. character is and why he took the job that you believed rightfully belonged to Bachelorette runner-up Peter Kraus? You're probably not alone... so here's some rose-colored news about everyone's favorite Wisconsin-personal-trainer-turned-reality-star-contestant. Could Peter still be The Bachelor someday?  Chris Harrison is giving fans hope.
People spoke to the face of the franchise, Chris Harrison, and he has some encouraging words about Peter's possible future. "Here's the thing: It all comes down to timing," he explained. And not only that, he thinks he's a solid candidate for the gig. He went on to tell People,
Peter would be a good Bachelor, could be a good Bachelor and may be a good Bachelor. Maybe he'll end up in Paradise, maybe on the Winter Games. Because Peter didn't get the nod does not mean we had this meeting and thought, 'That's really a bad guy.' He's not! It's not an indictment on him as much as this is the direction we're going to take the show.
So maybe we shouldn't expect Peter to fade into the sunset just yet. A few days ago he was one of the frontrunners for the job, so Bachelor Nation shouldn't count him out just because Arie's handing out roses this time around.
Peter's post-Bachelorette buzz has been a rollercoaster, to say the least. After his dramatic exit in the finale, the talk surrounding his forthcoming reality TV plans was all over the place. When Peter couldn't bring himself to give Rachel the proposal she needed at the time, it seemed totally understandable that almost immediately hopping in front of the camera to find a wife would probably not a be an option for the guy. And producer Mike Fleiss seemed to agree, according to his telling tweet last month.
Alas, the rumors still swirled and as of last week, Bachelor Nation was sure Peter would be their leading man. And maybe he was asked, but he just wasn't ready to take the plunge. Following the GMA announcement confirming Arie as the 2018 Bachelor, Peter posted an Instagram picture with a revealing caption that reflected on his Bachelorette experiences and thanked ABC for seeing something in him.
His words almost read like a concession speech/thank you note, though it was reported that he was indeed the one ABC wanted. According to a People source, producers reportedly went into "full-blown panic mode" because Peter turned down the opportunity, even though he wasn't their initial pick. 
But if anyone has insightful knowledge on the subject all things Bachelor, it's insider and guru Chris Harrison. "He is a blast from the past," the host said of the Arie decision on Live with Kelly and Ryan Monday. "Peter. I know a lot of people love Peter as well. They kind of look alike, oddly enough ... They're all hairless, they all eat all a lot of protein..." Oh, you crack us up, Chris. He went on to say that Arie has "always been in the pipeline," but "the timing just never worked out."
Ah, that pesky timing again.
Now that Chris has given Arie his blessing and also admitted that "Peter could be a good Bachelor," Bachelor Nation can rest a little easier. We're not ruling out the plethora of possibilities when it comes to Kraus' potential TV career to come. So, it's high time we all give Arie a chance. Hey -- he took his time, but eventually came back to the show. Note to producers: Please don't make us wait five years until Peter's the Bachelor. Don't let him be the one that got away...