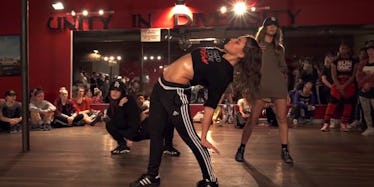 This Insane Choreography To Beyoncé's 'Formation' Is Beyond Impressive
Fans of Beyoncé's "Formation" should feel free to let the music move them whichever damn way they feel.
As a human with rhythm but no idea how to apply it to dance in a way that doesn't make me look like I'm the grand marshal of a cartoon parade, I do sometimes wish I could offer King Bey something more coordinated.
Choreographer Willdabeast Adams recently crafted seven minutes of relentless slayage to the tune of Yoncé's latest hit, and each dancer in the resulting video will personally inspire you to be better at movement of any and every kind.
The video features a wealth of talented performers, including Adams himself and China Taylor, who appeared in the official music video for "Formation" as well as Beyoncé's performance at Super Bowl 50 on Sunday.
These moves will forever remain supremely impressive.