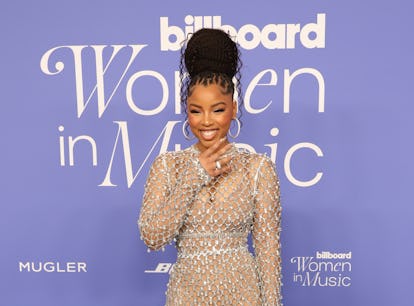 Chlöe Bailey Is Unbothered By The Backlash To Her Swarm Sex Scene
"I have so many other things to think about than to waste my time thinking how people perceive me."
Monica Schipper/Getty Images Entertainment/Getty Images
Chlöe Bailey isn't letting the social media swarm bring her down. After her first sex scene went viral, with some people bashing it for being too explicit, Bailey laughed off the haters, saying the reaction got totally blown out of proportion. Bailey's response to the backlash over her Swarm sex scene proved that she isn't paying attention to her detractors.
Upon Swarm's March 17 premiere, Bailey's first scene in the series instantly went viral, as a clip of her sex scene with co-star Damson Idris blew up on Twitter. The surprising introduction is meant to emphasize the stark differences between Bailey's sexually liberated character Marissa and her stunted and repressed best friend Dre, who was watching the action. But to a certain section of social media, the scene was deemed too explicit for the screen, with people calling it unnecessary and shocking.
Bailey first responded to the backlash during her March 26 appearance on the Big Boy's Neighborhood podcast. "I'm an actress and I feel like it's about art. It's not about seeing me in the mirror of that scene," Bailey said. "But I think because it's me doing it, that's what kind of makes it blow out of proportion. ... I was just doing my job and people got to remember that I'm an adult and I'm an artist and nothing was seen that they haven't seen from me. You didn't see nipple."
In a March 31 interview with Entertainment Tonight, Bailey said that she's been able to laugh off the negative comments about that scene. "I was laughing about it. I am really proud of my performance in that show," Bailey said.
She went on to say she's evolved past giving other people's perceptions of her too much energy. "It doesn't frustrate me anymore because I have so many other things to think about than to waste my time thinking how people perceive me," Bailey said. "You know, before it used to bother me, but now I'm like, I got so much to worry about."
Prior to shooting the scene, Bailey admitted she was nervous, but Idris was the perfect scene partner to alleviate any awkwardness. "Damson made it really comfortable," Bailey told Deadline. "You know, there were limited people on set — it was a closed set. We were laughing in between. We literally had a bouncy ball in between us. It took all the nervousness away from it."