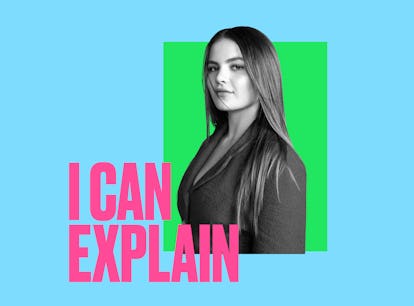 Cruel Summer's Chiara Aurelia On Playing "The Most Hated Person In America"
Don't worry, she's much happier than Jeanette IRL.
Freeform/Sami Drasin
Freeform's retro YA series Cruel Summer has had fans utterly captivated since its April 20 premiere. A big reason for that is one of Cruel Summer's stars, Chiara Aurelia, whose character Jeanette goes through a lot throughout the three summers fans see unfold in the first season. Basically, after a popular girl named Kate Wallis (Olivia Holt) goes missing in the early '90s, outsider Jeanette Turner (Aurelia) mysteriously manages to fill her shoes and become the town's new it-girl. It isn't until Kate returns to their small Texas town that Jeanette's life really falls apart as she becomes the show's (apparent) villain.
Warning: Light spoilers for Cruel Summer Season 1 follow. It turns out, Kate disappears because she's held hostage by their school's vice principal, Martin Harris (Blake Lee). Even more horrific, she claims Jeanette knew where she was being kept but did nothing to help her. While Jeanette denies Kate's accusations, she quickly goes from newly popular to "the most hated person in America." Jeanette's headspace is one Aurelia admits was "difficult" to dive into. "There's so much development and change that's going on over the course of those summers for [Jeanette]," Aurelia tells Elite Daily. "As a young woman growing up in that time, I think it was really challenging for her."
Luckily, Aurelia has plenty of experience in the thriller genre. The 18-year-old played young Jesse in the 2017 horror film Gerald's Game and Rose Lord in Amazon's 2021 series Tell Me Your Secrets. "I personally love psychological thriller[s] — anything that keeps you on the edge of your seat," Aurelia says.
But while Aurelia's characters tend to be on the enigmatic side, IRL, she's more than happy to spill details about her life, including a few of her favorite social media moments below.
This interview has been edited and condensed for clarity.
In Elite Daily's I Can Explain… series, we're asking celebrities to revisit their most memorable photos and tell us what really went down behind the scenes. Read more here.