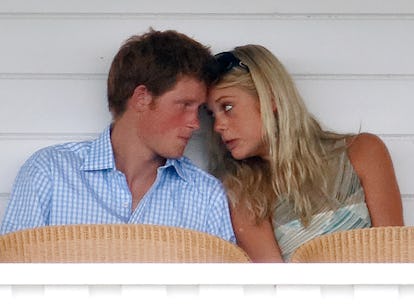 Harry Spilled A Lot Of Tea About Ex Chelsy Davy In Spare
Plus, how the queen sparked their breakup.
Max Mumby/Indigo/Getty Images Entertainment/Getty Images
Prince Harry's most famous ex-girlfriend, Chelsy Davy, was one of the first of his paramours to be put through the royal media circus. The couple, who dated from 2004 to 2010, were pretty serious, though Harry reportedly admitted in Spare (out Jan. 10) that he never knew if she was "the one." They broke up soon after Harry received his helicopter pilot's wings in May 2010. Though the once-couple kept their romance private (well, as private as possible) while they were together, Harry revealed plenty of details about his ex in his memoir.
Chelsy, 37, is from Zimbabwe. She founded two businesses: Aya, a jewelry company, and Aya Africa, a luxury travel agency. She's a mother of one son, Leo, who was born in January 2022, and she married Sam Cutmore-Scott a few months later, in May.
When she and Harry dated, they were both in their 20s. Per reports, they met while Harry was visiting Cape Town, South Africa during a gap year. Chelsy eventually moved to Leeds for law school, and their relationship grew more serious — and more public. "I loved Chels' ease, that she wasn't complicated," Harry wrote in Spare, according to Page Six. "She didn't care what anyone thought. She wore miniskirts and high-heeled boots, danced however she wanted, drank tequila like me, and all of this made me really happy."
Their relationship coincided with Prince William and Kate Middleton's, who hadn't yet gotten married. "Whenever I worried that Kate was going to be the one to take Willy from me, I consoled myself with thoughts of all our future laughing fits together, and I told myself how great everything would be when I had a serious girlfriend who could laugh along with us. Maybe it would be Chelsy," Harry wrote.
However, Harry had reservations about whether his family would accept her. "I couldn't help what my grandmother thought about it. Or the people. And the last thing I wanted was for Chels to change to please them," he continued, per Page Six.
The constant public attention didn't make things any easier. "The whole world isn't made to put up with constant scrutiny, and I don't know if Chels could bear it, and I couldn't ask her to," he added. "Chels insisted that she was not sure if she was prepared for all of that. A whole life with someone on your heels? What could I say to her?"
They split up in 2010, partially due to the public scrutiny. "I completely understood her desire for freedom. If I had a choice, I wouldn't want this life either," Harry wrote, per Us Weekly. "The day I got my wings, I figured she got hers." He added, according to Page Six, "I would miss her very much, but I understood she put her freedom first ... If I had the choice, I'd want to live like that as well."
Chelsy, though she rarely speaks about Harry, did share a similar sentiment in 2016. She opened up about the intrusive media attention to The Times: "I found it very difficult when it was bad. I couldn't cope. I was young, I was trying to be a normal kid and it was horrible."
Though they officially parted ways in 2010, they ran into each other at Will and Kate's wedding in April 2011. In the book, Harry recalled what it was like to see Chelsy again, explaining that he felt "a certain way" — aka jealous.
By the time Harry wed Meghan Markle in 2018, the two seemed to be on much more platonic terms and Chelsy attended their nuptials. "The two have remained friends long after ending their relationship and still keep in touch to this day," a source told Us at the time. "She congratulated him the minute the engagement news was announced. Meghan would have no problem with her being there and Chelsy was on the preliminary list of friends to invite."