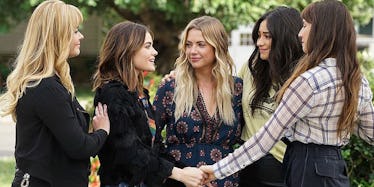 This Character Won't Be In The 'PLL' Finale, So We Can Rule One A.D. Suspect Out
Freeform
It's time to update your A.D. theories, Pretty Little Liars fans. Showrunner Marlene King just revealed one regular character will not show up at all in the series finale.
But don't worry — it's not one of the Liars. Marlene told TVLine fans will not be seeing any more of Jason DiLaurentis, Spencer and Alison's older half-brother.
We won't see Jason, because we couldn't get him for the finale. That I can tell you. But other than that, you'll see a lot.
Though not a main character, Jason has popped up in all seven seasons of the show. Since he won't be in the finale, the last thing we'll ever learn about Jason is he ends up living in New York, and Alison has gone to visit him.
Drew Van Acker confirmed his character Jason won't be in the finale on Instagram, writing "Not in the finale, sorry, but love the #PLL family forever." Van Acker is currently filming a sci-fi movie called Love Thy Keepers in New York, which may be the reason Marlene said they couldn't get him.
While it's sad we won't be seeing any more of Jason, the big thing this means for fans is we can all narrow our A.D. theories down by one. I don't think anyone really had Jason as the frontrunner to secretly be A.D. this season, but at least it's good to know that since he's not in the episode, it very likely won't be him.
And aside from that big reveal, there's a lot of other stuff for fans to look forward to in tonight's epic finale. Marlene also revealed the two-hour finale will be packed with more sex scenes than we've ever seen on the show, involving ever major couple fans have come to love.
So get ready for a wild ride tonight! The Pretty Little Liars series finale will air tonight on Freeform at 8 p.m. ET.