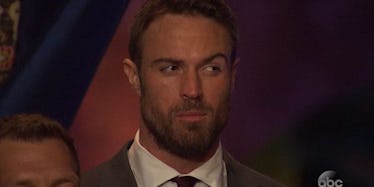 Chad Johnson's Reaction To 'Bachelor In Paradise' Suspension Is So, So Messed Up
ABC
Bachelor Nation is in over it's head with drama right now, and true to form, Chad Johnson popped in to make everything a lot worse.
In case you missed it, Bachelor in Paradise suspended production due to "allegations of misconduct" that allegedly happened between DeMario Jackson and Corinne Olympios.
Update: On June 14, DeMario Jackson gave E! Online the following statement about the Bachelor in Paradise suspension and claims about his involvement: 
It's unfortunate that my character and family name has been assassinated this past week with false claims and malicious allegations. I will be taking swift and appropriate legal action until my name is cleared and, per the advice of legal counsel, will be seeking all available remedies entitled to me under the laws.
Corinne also released a statement to TMZ on Wednesday. She said: 
I am a victim and have spent the last week trying to make sense of what happened on June 4. Although I have little memory of that night, something bad obviously took place, which I understand is why production on the show has now been suspended and a producer on the show has filed a complaint against the production. As a woman, this is my worst nightmare and it has now become my reality. As I pursue the details and facts surrounding that night and the immediate days after, I have retained a group of professionals to ensure that what happened on June 4 comes to light and I can continue my life, including hiring an attorney to obtain justice and seeking therapy to begin dealing with the physical and emotional trauma stemming from that evening.
Earlier: Basically, they allegedly took things too far sexually, and a producer complained. Elite Daily reached out to teams for both DeMario and Corinne for comment but did not hear back by the time of publication. Warner Bros. said in a statement to Elite Daily:
We have become aware of allegations of misconduct on the set of Bachelor in Paradise in Mexico. We have suspended production and we are conducting a thorough investigation of these allegations. Once the investigation is complete, we will take appropriate responsive action.
So, here's former Bachelorette contestant Chad Johnson's snarky response to this drama:
"I'm excited for The Bachelor in Pornadise," Chad wrote in one tweet.
In a separate tweet he added, "TV Shows I've been on - 4. TV Shows I've messed up so bad that they had to stop filming - 0."
Oof. That's harsh, Chad.
"Pornadise?" Keeping a count of your own TV appearances? I know Chad's the bad boy, but even for him, that's low.
Elite Daily has reached out to Chad for comment but did not hear back by the time of publication.
UPDATE: Johnson appeared to respond to haters who were upset with his initial tweets by sending out another tweet Monday afternoon.
The tweet reads, "I have the right to make jokes just as you have the right to be a little bitch that gets offended by my jokes. #ThisIsAmerica."
Johnson has still not responded to Elite Daily's request for comment.
EARLIER: We still don't have confirmation on what actually happened to cause Bachelor in Paradise to halt production.
Entertainment Tonight spoke with an anonymous source close to the show who gave the following testimony:
DeMario was in the pool. Next thing you know, Corinne comes over and hops on his lap. They start talking and joking… Everyone is just going about their business. Cameras are rolling. Producers are everywhere. That's when a 'third party' felt uncomfortable, claiming misconduct in the workplace. As of right now, production of 'Paradise' is suspended indefinitely. And they are sending everyone home and telling everyone else to stay home. DeMario and Corinne got sent home soon after.
Fans spotted some of the Paradise stars at an airport in Puerta Vallarta, Mexico, on Sunday morning. ET reports all of the cast has been sent home indefinitely.
Before this alleged incident, Bachelor in Paradise was set to air August 8. At this point, it's unclear how the suspension of production will affect the premiere date.