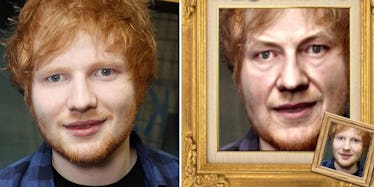 This Is What Your Favorite Celebs Will Look Like In 50 Years
Getty Images/In20Years
You can seriously find the craziest, weirdest sh*t on the Internet these days.
Whether you want to Face Swap with a friend, find out what your children will look like some day or turn yourself into a cartoon, there's a place for everything.
There's even a website completely devoted to figuring out what you'd look like in the future.
Yup, I'm serious. In20Years uses magic (or maybe just Photoshop) to age your face in photos.
Although the site says "20" or "30" years, when I used the app I found the faces looked way older than that.
I mean, I'm 23, and when I did it to myself, I looked like an old lady on the verge of death. The results were extreme, and for that reason, I think it's a way more accurate representation of what you'd look like in 50 years.
Or, you know, you could see what other people will look like in the future. What about your friends? Your family? Your pets? Your favorite celebrities?
To have some fun with this, I put several photos of celebrities through the app to see what they would look like in 50 years.
What I learned? Wear your sunscreen, kids. Some of these results ain't pretty.
Taylor Swift
Selena Gomez
Kylie Jenner
Kendall Jenner
Nick Jonas
Adele
Justin Bieber
Kanye West
Kim Kardashian West
Gigi Hadid
Ed Sheeran
Amy Schumer
Citations: In20Years (In20Years)