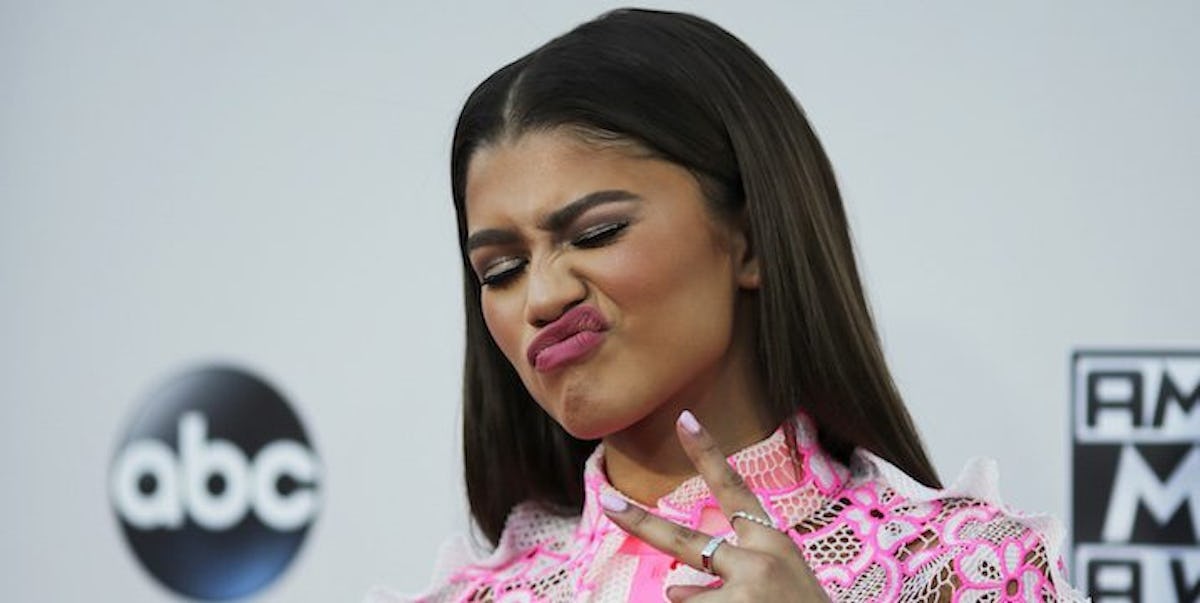 Zendaya's Advice For Fighting Off Cyberbullies Is So Simple But So Effective
REUTERS
Zendaya is well on her way to joining the legendary list of one-named celebrities.
The 20-year-old actress, singer and dancer is on track to step up alongside the likes of the Madonnas, Ushers and Oprahs of the world -- both in terms of talent and social activism.
Zendaya got her start on the Disney Channel and has recently landed roles in two major films, "Spider-Man: Homecoming" and "The Greatest Show on Earth," in addition to designing her own fashion line and maintaining a record deal.
She's also consistently raising awareness on societal issues, ranging from the water crisis in Michigan to showing support for Standing Rock to the Black Lives Matter movement and many others.
Based on her strong voice on social media, it's no surprise Z paired up with Verizon as part of its #WeNeedMore campaign.
The movement strives to bring technology and hands-on learning to students in underprivileged areas across the nation. The campaign calls attention to those students in underserved areas who aren't exposed to science and technology careers, hoping to expand their minds and dreams.
Zendaya was featured alongside Adriana Lima, David Via, Carl Anthony, Joey Logano and Drew Brees in Verizon's inspiring video.
I had the chance to sit down with Zendaya on the day she filmed the ad to discuss her involvement in the campaign, her opinions on social media and her advice for dealing with cyber bullies.
What made you want to partner with Verizon and be a part of the #WeNeedMore campaign? 
When I got on the phone to talk to them [Verizon] about it, I was like, this is crazy because this is literally my life with my mom. My mom is a teacher and she's been a teacher in underprivileged areas of Oakland for 20 years and was one of those teachers that really I think went above and beyond for her students and wanted to bring technology into the school… so I know first-hand how important it is for kids to have that kind of experience... to see, work with it and have it [technology] right there in front of them… and I think it opens doors to create more creative learning experiences and it opens doors to ideas and passions they never would've thought of. I think a lot of time the world glamorizes just being an athlete or being a singer or a dancer and most kids just say they want to be famous, but there are so many opportunities and amazing things out there, especially in the tech world, but we just have to give that to them -- that's what this is about… saying, 'Hey look at all this cool stuff you can be doing,' and opening their eyes to something is really cool. 
How has technology affected your personal life?
I mean it affects everyone's life, really. You know, it's kind of the technology age and everything is coming out and changing the way we live and, I'm gonna sound like Tupac… but it's true. It has changed everything, you know? It really has. And I think you can either choose to ignore it and live in the Stone Age or you can choose to be a part of it and make it something positive and something that is forward thinking and embraces people and helps people, which is what I think technology should be — a platform for creativity and good stuff. 
You represent such an empowering female voice on social media, what do you attribute that to?
I have great parents, parents who have always told me to stick up for people and taught me the importance and the value of my voice and I've never been taught that I was any less than anyone else no matter my skin color, no matter my age, no matter if I'm a girl or a boy -- it doesn't matter. I'm just as capable or as deserving of anything as anyone else, and I think that is something I definitely try to teach onto those who look up to me… or people who come to me for guidance, which is weird because I'm only 20, but cool, I'll take it.  I really just want them to know that they can use their voice for good, that they have a voice, they exist and, again, using technology and my platform for things that are important.
Technology has an infinite number of benefits, but what's your advice for some of the downfalls of the internet like cyberbullies?
My biggest advice for dealing with cyberbullying is quite simple, just turn it off. That's the luxury of it. It's one thing to be dealing with bullying in your face, but it's another to have it online. It's different if they go to your school, but it's usually a random person. That happens to me all the time. Trust me, I deal with a gazillion haters all day every day, I don't know who they are. My biggest advice for dealing with cyber bullying is quite simple, just turn it off. Somebody said something that was really powerful… they were saying that allowing someone on the internet to affect you is literally like allowing a stranger to jump in your car at a red light, scream all these heinous, terrible things at you and then get out. In real life, how would you react? You'd be like, 'What the hell? Who are you and why are you in my car?' It's literally a stranger who doesn't know you who you've never met… and in real life, you'd laugh it off.
What other advice do you want to give your followers, specifically in terms of the current political climate?
I think the biggest message I could say is you have a voice. And with that being said, if you choose to use it, do so responsibly and try to help the situation as much as you can. And open your mind, I think... we [young people] always think we know everything, but we don't and so if you humble yourself and realize that there are so many other perspectives and things out there in the world and just open your ears, even if it's something you find ignorant, and stupid and ridiculous you know sometimes there's an answer to the ignorance if you listen to them. I know that sounds a little weird, but it's true. You have to understand where other people are coming from in order to change their minds