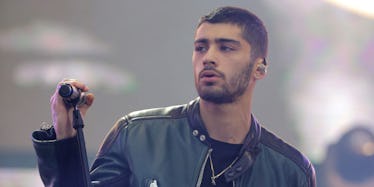 Zayn Posts 28-Second Clip Of New Song And Fans Are Already Obsessed
REX/Shutterstock
Zayn is back with some new music!
The One Direction breakout posted a short snippet of a new song on Tuesday afternoon, promising his fans there's "more to come."
Though we don't get to hear any of Zayn's vocals in the snippet (or at least I don't think that's his voice?), the new clip does fill fans in on the direction the R&B crooner will be going for his sophomore solo album.
Zayn posted a bright, colorful video of a poodle dancing beneath a bone that reads "excited," which is being dangled above its head.
The song itself matches the hypnotic vibe of the video, as a layered, rhythmic chant echoes throughout the 28 seconds.
While Zayn's last album, 2016's Mind of Mine, featured the singer delving into slow and sensuous R&B bedroom grooves after shelving his bubblegum pop past with One Direction, it sounds like he's planning to draw inspiration from Middle Eastern chanting and some Bollywood rhythms.
Zayn Malik has spoken before about how his father's musical taste influenced him during his formative years, saying that along with hip-hop and R&B music, he also grew up listening to a lot of reggae and Bollywood records.
And it looks like fans are already loving Zayn's new sound.
Shortly after he posted the clip, fans flooded his replies with joyful GIFs as they freaked out over the new music.
And of course, there were also tons of fans who just can't take the wait for Zayn's new single, and voiced their excited frustration.
Thankfully, Zayn is not one to keep his fans waiting.
Almost exactly a year after leaving One Direction in 2015, he churned out his debut solo album, Mind of Mine, and just a couple months ago he collaborated with Taylor Swift to release the chart-topping single "I Don't Wanna Live Forever."
Looks like a new Zayn single is coming any day now!