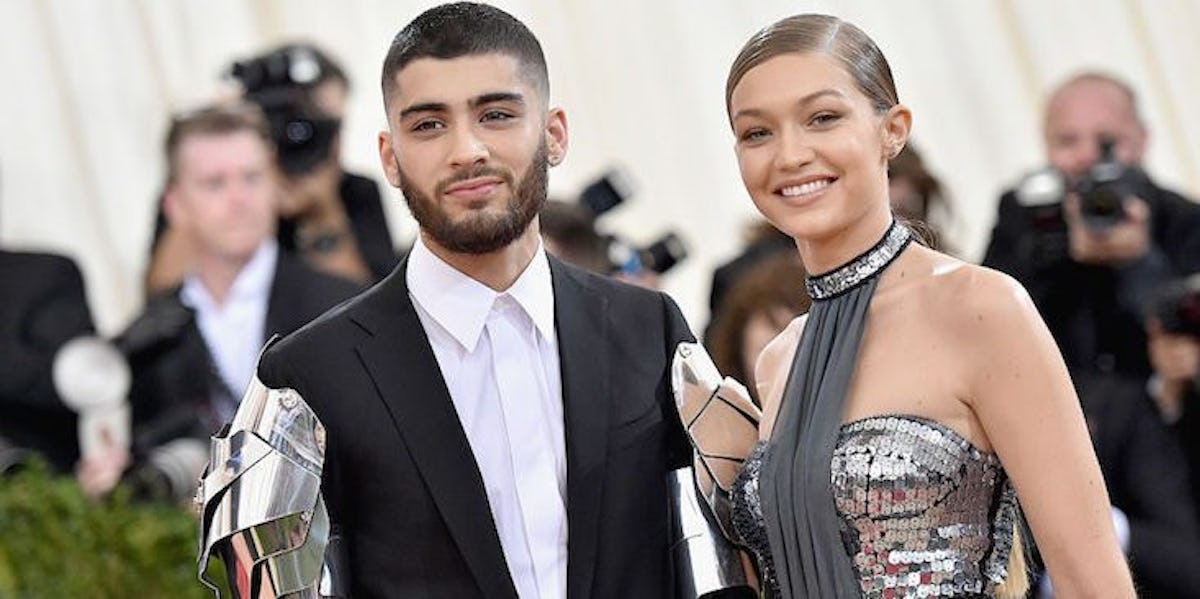 Zayn Malik Reveals What He Does For Gigi Hadid On A Typical Date Night & It's So Cute
Getty Images
Zayn Malik and Gigi Hadid's relationship is still going strong two years in! The couple that's so gorgeous I think they were meant to breed beautiful, singing model babies for the sake of the human race are insanely adorable together, and they've proved to be one of Hollywood's most stable young couples. They're not shy about posting/talking about each other, although Zayn famously doesn't share much about his personal life. There are times, though, when he does get candid about his life outside of music and fame. And when he does, he loves to talk about his girlfriend. In a recent interview, Malik revealed what a typical date night for him and Hadid is like, and it's so simple, you'll swoon over it.
Malik told Us Weekly that Zigi's ideal date night consists of one of them cooking for the other, and now I'm hungry. Malik said, "We both cook, so we like to make meals for each other. I make chicken and sweet corn pie. She likes that." Zayn, do you want to cook for me? I can cook just fine, but I don't particularly love it. So if you're looking to make this cooking thing a full-time gig, I can't pay you money to do it because I'm broke as hell, but I'd be happy to pay you in friendship. Hit me up. Gigi can come too.
Malik also revealed that he and Hadid try their best not to compare their relationship to other famous couples; they're just trying to have a typical relationship together. He said,
We try not to think about it too much. There are a lot of people who are too busy in other people's lives. I just concentrate on my relationship and try to do right by my girlfriend and she does by me, and we hope for the best, as we all do!
Hadid obviously has an eye for fashion and styling, as does Malik, but he says she never really picks out outfits for him/styles him for particular events. Most of the time, he chooses what to wear on his own. He said,
She doesn't really pick out my outfits, but we do the normal thing between boyfriend and girlfriend where we're like, 'I like this,' or 'that looks nice on you.'
"Hey, babe, that looks nice on you." "Oh, this old thing?! OMG, I just threw it on, LOL."
And even though two of her former One Direction band mates have children now (Liam has an infant son named Bear, Louis also has an infant son named Freddie), Malik doesn't feel any heat to settle down and have kids just yet. He told the outlet,
I don't think things like that should be decided based on feeling pressure. When it's the right time and place, hopefully that will happen. Who knows when that will be.
If Gigi and Zayn had babies, those babies would come out of the womb with a multi-million dollar modeling contract with Pampers already locked in, and you know I'm right.
Last year, following Malik's exit from One Direction, Malik opened up about his struggles with anxiety and how Hadid has helped him through it all.
He says he doesn't regret revealing his struggles at all, as it felt like a massive weight was lifted once he put it all out in the open. When asked if he's happy that he got candid about his anxiety, he said,
Yeah, 100 percent. People have a better perspective of where I was coming from at the time and that it wasn't me being ungrateful or unaware of the opportunities that were in front of me. It was just me struggling with being able to actually be there. I'm glad I got that off my chest. You have to clear the air.
In conclusion, Zayn Malik and Gigi Hadid are cute as hell.