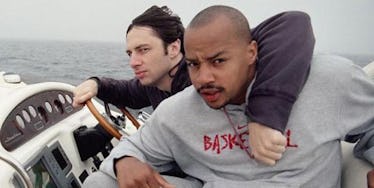 Zach Braff Will Make Pizza For Gay Weddings If Indiana Restaurants Won't
Much of the controversy surrounding the passage of Indiana's Religious Freedom Restoration Act has to do with the fact that it allows businesses in the state to deny service to members of the LGBT community.
Naturally, this move hasn't exactly been popular across the United States as it essentially legalizes discrimination.
Two people who have taken issue with the act are Zach Braff and Donald Faison. The "Scrubs" stars are so displeased, they offered to cater gay weddings in Indiana.
Memories Pizza, a pizza place in Walkerton, Indiana, refused to provide pizza for gay weddings, citing the new law.
So, Braff decided to step in and volunteer his services to fill that void.
He tweeted:
If you really and truly want pizza for your gay wedding in Indiana... We will make it for you. @donald_faison pic.twitter.com/y91qIkVoyt — Zach Braff (@zachbraff) April 3, 2015
I'm not sure why the dynamic duo is on a boat in the photo, but the message is clear.
Both actors support members of communities this new law discriminates against, and they are willing to make some pizza to prove it.
Citations: Zach Braff And Donald Faison Will Make Pizzas For Your Gay Wedding In Indiana (Huffington Post)