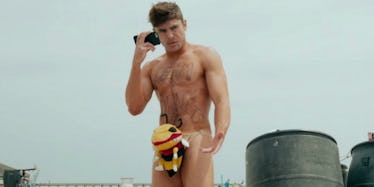 Zac Efron May Be The Next Victim Of Nude Photo Leak After Ex's Phone Is Hacked
Lionsgate
Trash monsters continue to hack celebrities' personal phones to steal their nudes to be published.
Emma Watson and Amanda Seyfried were the latest victims of what is being called The Fappening 2.0.
Also part of the recent hack is Sami Miro, Zac Efron's ex-girlfriend. Compromising photos from the designer's phone were released and it's suspected that, if Efron is featured in the photos, his nudes will be next.
The leaks are normally focused on women, but hackers will include pictures of male celebrities if a female is also in the shot. Generally, they do not leak solely male stars.
Rumors are suggesting that a sex tape may even be part of the leak that features the "High School Musical" star and Miro.
Miro and Efron dated for two years, but broke up last year in April, quickly deleting traces of each other off their social media accounts.
The model and designer subtweeted the actor after the split.
The latest leaks, which includes Emily Ratajkowski, who had as many as 200 naked photos stolen from her iCloud account, Lucy Hale of "Pretty Little Liars" and Maisie Williams of "Game of Thrones," is drawing comparison to the original Fappening.
In 2014, a massive leak of nude photos of celebrities hit the internet, include pictures of stars such as Jennifer Lawrence, Kate Upton  and Kirsten Dunst, as well as 23 other celebrities.
The man behind the Fappening in 2014, 36-year-old Ryan Collins of Pennsylvania, was sentenced to 18 months in federal prison.
Collins hacked into at least 50 Apple iCloud and 72 Gmail accounts from November 2012 to September 2014. However, investigators have no evidence that show Collins was the one to leak the images online.
Collins used a phishing scam to obtain the celebrity's usernames and passwords. He sent emails that appeared to be from Apple or Google, asking the victims to send their information to him.
Hopefully, whoever is behind these recent leaks of this private material will face the same punishment.
Citations: Zac Efron's Ex Sami Miro Is The Latest To Have Her Nude Photos Leaked — And The Baywatch Hottie Could Be Next! (Perez Hilton)