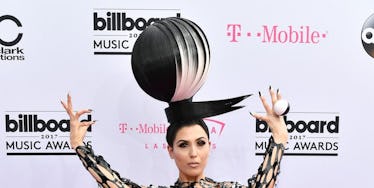 This Singer Wore A Massive Hair Ball On Her Head At The Billboard Music Awards
Rob Latour/REX/Shutterstock
If you're like me, you sit on your high horse and don't let the fact you're wearing old sweatpants stop you from critiquing and analyzing the fashion on Hollywood's finest red carpets.
We laugh, we cry, and we channel Joan Rivers to the best of our abilities.
At this year's Billboard Music Awards, one singer ran us through an absurd range of emotions — singer/songwriter Z Lala decided to think outside the box (but inside the cage) for this year's red carpet look.
Z Lala is a 24-year-old synth-pop singer and songwriter; she performs in 19 different languages, including American Sign Language.
While her lingual resumé may be impressive, her clothing screams something slightly less clear.
At last year's Billboard Music Awards, Z Lala channeled her inner Edward Scissor hands and rocked another cage-like dress.
In 2015, Z Lala made headlines with a look that can only be described as "Ursula Chic," which, if you're an aspiring under-the-sea villain, is actually a perfect look.
When speaking about her 2015 look, Z Lala said it took "comfortably three weeks to make" and,
I was inspired by my pet octopus, believe it or not... and I love the scarab beetle, so I said let me bring the colors of the scarab beetle, the june bug, and, you know, the tentacles of the octopus and make a freak of nature.
Unsurprisingly, Z Lala has been compared to Lady Gaga in the past. That should come with a zero percent shock value to everyone, considering her outfit choices and the "ah-ah" aspect of both of their names.
This year's Billboard Music Awards is hosted by Ludacris and Vanessa Hudgens and is taking place in Las Vegas, Nevada.
There are plenty of exciting performances and fashion statements to come, so stay tuned while Elite Daily covers all your Billboard Music Awards needs!