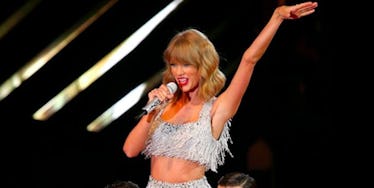 Sorry Taylor Swift, Calvin Harris & Katy Perry Dominate The VMAs Nominees List
Mark Davis/Getty Images
Well, folks, it's that time of year again: The MTV VMAs are just around the corner and nominations are officially out. Of course, we are all looking forward to seeing this year's nominees goof around on the red carpet and take home their moon men, but, while we're guaranteed to see faves like Katy Perry, Harry Styles, and The Weeknd, there's still one major question on everyone's lips: Will Taylor Swift be at the VMAs?
While Taylor Swift is used to racking up nominations at awards shows like these, this year she only has one for Best Collaboration with Zayn on "I Don't Wanna Live Forever" from 50 Shades Darker, meanwhile others like Katy Perry lead the pack with five noms. This, combined with her lengthy hiatus from the public eye and social media, makes it very unlikely we'll be seeing Tay Tay awkwardly dancing in the crowd at this year's show, which is a shame because T Swift always seems to make the VMAs a *little* more interesting for everyone watching. Between her famous interaction with Kanye in 2009 and her always flashy and fun VMA performances, you can't deny Taylor makes for good television.
It also doesn't help that Swifty is up against her ex, Calvin Harris, and her (maybe?) enemy, Katy Perry, in the category for Best Collab. While I doubt any of the three really gives a sh*t, it's still a little awk given how much drama the media loves to stir up around Tay and her exes/feuds, which is even less motivation for her to go if you ask me.
Finally, it seems like actually getting to the VMAs might be a little difficult for Taylor these days. After all, it would probably be very inconvenient for her to travel to the awards show in a suitcase. LOL, send me home.
All jokes aside, though, let's hope Taylor is getting some much needed and deserved time away from the spotlight so she can come back with what we already know will be a creative, amazing follow up to her last album 1989. Any day now, Tay.