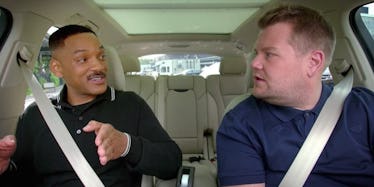 Will Smith's "Carpool Karaoke" Episode Will Get You Pumped For The Series
YouTube
"Carpool Karaoke: The Series" is here! The new show, exclusively on Apple Music, just released its first episode, and it stars the Fresh Prince himself. Yup, Will Smith's "Carpool Karaoke: The Series" episode is everything you'll ever need. The video shows James Corden and Will Smith dancing and rapping to Smith's '90s hits "Get Jiggy With It" and "Boom Shake The Room," and Corden even gets a marching band to join them. I'm not kidding. This is a thing that happened.
The new "Carpool Karaoke" series won't always feature James Corden, though. The trailer for the first season shows the celebrities themselves driving the car with other celebrities coming along for the ride. The trailer shows John Legend and Alicia Keys together, Ariana Grande and Seth MacFarlane, Shaquille O'Neil and John Cena, Billy Eichner and Metallica (LMAO), Sophie Turner and Maisie Williams, Joe Jonas and Camila Cabello, and Corden coming back for an episode with LeBron James.
Further into Will Smith's episode of "Carpool Karaoke," Corden asks Smith a series of questions that Smith can only answer by saying "Oh HELL naw" in the most Will Smith way he can. Some examples: "Awww, Will, let me send you this 12-minute video of my niece at her recital." "Oh HELL naw." "The best dance from the '90s was the Macarena." "Oh HELLLLL naw." "Hey guys, I ordered a pizza with extra pineapple." "All right, see, now you're going too far." Will Smith likes pineapple pizza. Who knew?
The rest of the episode can be seen on Apple Music, but we do get a really great 8-minute version if you don't use that streaming service. In the extended version of the episode, Smith and Corden crash a wedding and sing "I Believe I Can Fly" in a helicopter. This show is already everything.
If you want to see Smith and Corden singing The Fresh Prince of Bel Air theme song, you'll have to watch the episode on Apple Music. They just TEASED us with it in the trailer. It's cruel.
At one point in the video, Corden asks Smith if anyone has asked him to play Barack Obama in a movie yet. And turns out, someone has!! Smith revealed that Obama himself talked to him about playing the 44th president.
He said, "I talked to Barack about it." (Of course Barack Obama and Will Smith are on a first-name basis.) "He told me that he felt confident that I had the ears for the role." PLEASE let this happen, world. We need it, and we need it now.
Now that the Will Smith episode has aired, the only episode that matters to me will be the one with Billy Eichner and Metallica. The trailer for their episode shows them singing Disney songs and Rihanna's "Shine Bright Like A Diamond," so I'm probably going to lose it watching this.
Thank you for the music, James Corden, Will Smith, and Billy Eichner. New episodes of "Carpool Karaoke: The Series" come out every week on Apple Music!