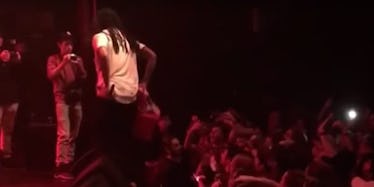 Waka Flocka Flame Wipes Bare Butt With Trump Jersey In Video From His Concert
YouTube
In this week's episode of celebrities who hate President-Elect Donald Trump, "No Hands" rapper Waka Flocka Flame steals the stage.
Just in case you forgot, "No Hands" was the party anthem circa 2010.
In a video obtained by TMZ, the rapper can be seen on stage performing inside the Georgia Theatre in Athens, GA, when he notices a Trump jersey on one of his fans.
Then, in the middle of his concert, he starts trying to convince the person to give him the jersey by saying,
Throw the jersey up here bruh. Throw it. Throw it. I fuck with it. That's a Trump jersey right? Throw that shit up here. Throw it up here bruh. I fuck with it. I fuck with it!I fuck with that Donald Trump jersey. I voted for Trump. Give it here. Let me see it.
What happens next is basically a metaphor for what Meryl Streep did to Trump at the Golden Globes.
Waka Flocka Flame turns around, pulls down his pants, uses his fan's Trump jersey like toilet paper and then throws it on the ground.
After, to top it all off, he yells, "Fuck Donald Trump!"
In the video it isn't clear what kind of reception he got for the stunt he pulled, but considering Georgia is a red state, it probably didn't bode well for the performer.
And he clearly doesn't care.
In 2015, the rapper refused to stay silent in response to some of the more racist comments that our president-elect made.
Which lead to his short stint as a presidential candidate between 2015 and 2016.
Then, after realizing he was actually too young to run for our nation's highest office, he waited another year, then re-announced his campaign for presidency, adding former professional wrestler Ric Flair to his ticket.
At the time, people saw it as a joke because America would never elect someone so vulgar.
The joke is on us.
Citations: WAKA FLOCKA FLAME WIPES ASS WITH TRUMP JERSEY (TMZ)