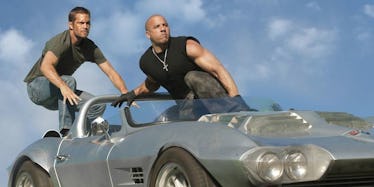 Vin Diesel Gave A Touching Tribute To Paul Walker At 'Furious 7' Screening (Video)
Universal Pictures
"Furious 7" is on the cusp of being unleashed upon the world.
The seventh film in the "Fast and Furious" franchise is set to be released April 3.
As such, there have been a select number of sneak peeks of the film, and Vin Diesel gave a little speech before one of them.
From Diesel's speech, it is clear to see making this movie was a highly emotional process for him because his good friend Paul Walker died in the middle of production.
Diesel said,
This was a labor of love. It was in some ways the hardest movie I ever had to do. Because the relationships that you see on film are so real. When the tragedy happened, I lost my best friend. I lost my brother.
It's a tragedy Walker is no longer with us, but at least this film exists as a final showcase of his talent. Diesel finished his speech by saying,
What can I say, guys. Thanks for being my family. Thanks for always taking care of us. Thanks for believing in us... Please know that we made this movie from our hearts, and know that this is our gift to you. And more importantly, it's for my brother there. Let it be the legacy we know he deserves.
You can see Diesel's speech up above.
Citations: Watch Vin Diesel give an emotional tribute to Paul Walker at a Furious Seven screening (USA Today)