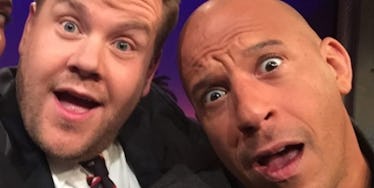 Vin Diesel Desperately Auditioning For 'Carpool Karaoke' Is All Of Us
Twitter
Someone PLEASE get Vin Diesel onto an upcoming edition of "Carpool Karaoke."
I think we're allllll overdue for a "Fast and the Furious" movie that showcases Vin and James Corden singing "Build Me Up Buttercup" while Brazilian terrorists shoot at them.
If 2016 had one saving grace, it was James Corden and "Carpool Karaoke."
Whenever that lovable British TV personality shoves a celebrity into his car, blasts the radio and tries to harmonize with people who are better at singing than he is, it's brilliant.
I want the audio of this clip to be played at my wedding and my funeral.
The segment where he gets Bruno Mars to sing "24K Magic" and "Uptown Funk" in a car full of cameras should be considered an American cultural touchstone.
I mean, have you even SEEN Adele's "Carpool Karaoke" ride?!??!
James Corden isn't going anywhere any time soon. Moms love him too much.
I'm not sure what the booking process for the segment is, but "The Late Late Show" producers would be FOOLS not to cast Vin Diesel. He's the star of a franchise built around cars for Christ's sake!
Plus, he really wants to do it, so I bet they can get him for really cheap.
While making a recent appearance on "The Late Late Show" with "XXX" co-star Deepika Padukone, Vin asked the audience,
How many of you wish you could be on 'Carpool Karaoke'?
He then asked James,
Could you do it in New York City, my hometown?
Then the two of them started singing this random song from "Oliver."
The pieces are all there, James! We all want this to happen!
I'm SURE you could get a role on "Fast and Furious 9: Soooo Friggin' Fast" if you do it also. I'm sure they need a quirky British demolitions expert or something like that.
Citations: Vin Diesel Auditions for Carpool Karaoke and It's Pretty Awesome Watch (Entertainment Tonight)