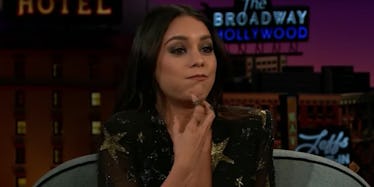 Vanessa Hudgens Threw Up In A SoulCycle Class, So Celebrities Are Just Like Us
CBS
I've been to exactly one SoulCycle class and it's truly an experience that is hard to forget. In fact, the only reason I went was because my friend, who is a personal trainer, gave me a free pass.
After work I ate a burrito, chugged a margarita and went to the spinning class.
Afterwards, I promptly vomited in the wonderfully clean bathrooms.
SO YEAH, VANESSA HUDGENS AND I HAVE A LOT IN COMMON.
Personally, appearing on late night TV shows like "The Late Late Show With James Corden" isn't a place I would normally tell this story, but I did just tell the whole Internet, so who am I to judge?
Hudgens is a huge fan of SoulCycle. Her instructor even lets her ride on the podium, where she's the spotlight of the entire class.
As she was biking to the hot beats of somebody like the Chainsmokers or something, she felt truffles she ate the night before for her sister's birthday trying to steal that spotlight.
I watched this interview, despite my best judgement, while eating my dinner. She admits that she felt it coming up and said,
...I was like, oh my God... what do I do — and I swallowed it. I swallowed my throw up.
I am grossed the eff out.
James Corden was much more supportive. He said,
It is a weird thing...you're right, it's a weird thing that happens. When you're sick in your own mouth, you have to make a very definite choice. And I'm gonna say, 10 times out of 10, you go...
At this point, he mimics swallowing his own vomit and adds,
That didn't happen. That never happened!
Thomas Sadoski, who was also on the program, said,
I can't think of anything more sort of Hollywood royalty than "I puked up truffles while I was sitting at the podium of SoulCycle."
BRB, getting kind of sick of just writing this.
Citations: Vanessa Hudgens Puked During a SoulCycle Class (Teen Vogue)