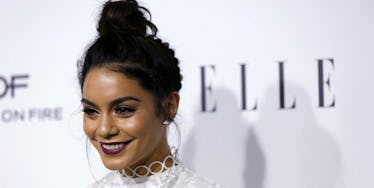 Vanessa Hudgens Smuggles Oreos Into Oscar Party, Becomes Most Relatable Celeb
REUTERS
Vanessa Hudgens rolled up to an Oscars party Sunday night looking like a sexy enchanted icicle when an interviewer asked what she had in her tiny clutch. Apparently, she had Oreos.
You can't fool us, Vanessa. You can't wave those Oreos in our faces and expect us to run out and buy them just because you said so.
This isn't "Sneakernight." It's the goddamn Academy Awards, and we are not your sheep.
That being said, I am INDEPENDENTLY going to eat an entire sleeve of Oreos for lunch — OF MY OWN VOLITION — right now because I WANT TO and NOT because Vanessa TOLD ME TO.
MY CHOICE IS A SEPARATE THING.
When the interviewer asked what she brought with her to the Oscars 2017 viewing party, your girl Baby V whipped an Oreo Chocolate Candy Bar out of her bag, saying,
I am such a dork, I bring a candy bar because it's such a long night and there's nothing better than being able to share candy.
Not sure Vanessa's instincts to avoid starving to death make her a dork, but it may make her relatable in the sense that we're all just out here trying not to die.
The former "High School Musical" Disney Channel darling visited pal Ashley Tisdale's Music Sessions back in January. The besties sang a cover of Elle King's "Ex's & Oh's" arranged by Ashley's husband, composer Chris French.
Ashley told viewers,
I read all your comments, and you guys wanted one very special guest and so I brought her in: My best friend, Vanessa Hudgens! We were really excited to do this because this is actually our first duet together. We did not have a song in 'High School Musical' just the two of us. We always wanted one, too.
The video cuts off after the song and before the BFFs probably unhinged their jaws and anaconda'd the crap out of 70 Oreo Chocolate Candy Bars like a couple of real dorks.
Citations: Vanessa Hudgens Carried Oreos In Her Clutch At An Oscars Viewing Party, Proves She Is All of Us (Cosmopolitan)