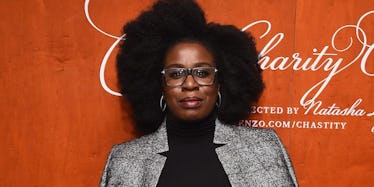 Is Uzo Aduba Single? What We Know About Her Dating Life
Ilya S. Savenok/Getty Images
The 69th Annual Emmy Awards are coming up this Sunday, Sept. 17, and all of your favorite actors will be in attendance at TV's biggest night. Stephen Colbert is set to host the night with winners from previous years announcing the winners, among others. Orange Is The New Black fan (and Emmy) favorite Uzo Aduba is up for her third Emmy this year in the Outstanding Supporting Actress In A Drama Series category for her performance as Suzanne Warren, aka "Crazy Eyes." She was previously nominated in the same category for the same role in 2015 and won! In 2014, she won her first Emmy for Outstanding Guest Actress in a Comedy Series for Orange Is The New Black. We know all about Aduba's professional life, but what about her personal? Is Uzo Aduba single? Married? Divorced? None of the above? What's her sexuality?
The star is famously quiet about her personal life, choosing only to speak about her professional experiences most of the time in interviews. That doesn't keep her from being personal, however. Her Emmys speeches in 2014 and 2015 were super emotional; it's hard not to shed a tear when watching them, honestly. (I just love seeing peoples' dreams come true, OK?!)
So maybe she doesn't spill the tea about her personal life all the time, but she's definitely not afraid of being publicly moved and vulnerable. Is Uzo cries, we all cry, DO YOU HEAR ME? Anyway, here's everything we know about the star's dating life:
Well... we know she keeps it under lock and key.
Aduba is not here to have you trifling through the most personal details of her life. Although she is a Broadway veteran (she was in three Broadway shows before even stepping foot onto a TV/film set, in case you didn't know), she only reached her current level of fame when she snagged the role of Suzanne "Crazy Eyes" Warren on Orange Is The New Black. Her time in the TV spotlight has been brief so far, so for someone who is relatively new in Hollywood, it's impressive that she's been able to keep her personal life out of the spotlight.
You know the drill, there's some new popular face in Hollywood and everyone does all the digging they can to figure out every aspect of that person's life. Aduba hasn't let that happen, so kudos to her. There have been some rumors, however.
She took her prom date to the SAG Awards, which made people think they were dating.
Aduba won a SAG Award in 2016 for OITNB (we should just give her all the awards at this point 'cause she's unstoppable), but the cutest part was she brought her prom date with her! His name is Mark, and they're buddies from high school. She posted a side-by-side image of her and Mark at prom and then the SAG Awards, captioning it,
He asked me to the prom, I said yes. I asked him to SAGs, he said yes. #sagawards @mcrow55
I love me a good throwback. But this didn't seem to be a romance at all — it was just two old friends getting together for a night... in Hollywood... at the SAG Awards.
There was once a rumor that she was dating Leslie Odom Jr.
But this is a FOUL LIE. Sorry, I get really emotional about Leslie Odom Jr. because I loved him so much on SMASH (RIP) and Aaron Burr is the best character in Hamilton. You can @ me. (If you didn't know Leslie Odom Jr. played the original Burr in Hamilton, excuse me while I sob into my puffy colonial-era sleeves.)
Aduba and Odom co-starred in the Public Theater's Venice back in 2014. The show never made it to Broadway, but Aduba and Odom became friends as a result. Odom is happily married to Nicolette Robinson, his longtime girlfriend who plays Jane on Showtime's The Affair, and they just had an adorable baby girl, so no, Aduba and Odom were most likely never a thing, despite some of the rumors.
TL;DR: Uzo Aduba will tell you her relationship status/her sexuality if/when she damn well feels like it. Until then, let this queen make her art. The 69th Annual Emmy Awards are set to air this Sunday, Sept. 17 at 8 p.m. on CBS. Stephen Colbert is hosting, and you can check out some of the nominations below:
Outstanding Drama Series
Better Call Saul House of Cards Stranger Things The Crown The Handmaid's Tale This Is Us Westworld
Outstanding Comedy Series
Atlanta black-ish Master Of None Modern Family Silicon Valley Unbreakable Kimmy Schmidt Veep
Outstanding Limited Series
Big Little Lies Fargo Feud Genius The Night Of
Outstanding Lead Actor In A Drama Series
Sterling K. Brown (This Is Us) Anthony Hopkins (Westworld) Bob Odenkirk (Better Call Saul) Matthew Rhys (The Americans) Liev Scrieber (Ray Donovan) Kevin Spacey (House of Cards) Milo Ventimiglia (This Is Us)
Outstanding Lead Actress In A Drama Series
Viola Davis (How to Get Away With Murder) Claire Foy (The Crown) Elisabeth Moss (The Handmaid's Tale) Keri Russell (The Americans) Evan Rachel Wood (Westworld) Robin Wright (House of Cards)
Outstanding Supporting Actor in a Drama Series
Jonathan Banks (Better Call Saul) Mandy Patinkin (Homeland) Michael Kelly (House of Cards) David Harbour (Stranger Things) John Lithgow (The Crown) Ron Cephas Jones (This Is Us) Jeffrey Wright (Westworld)
Outstanding Supporting Actress in a Drama Series
Uzo Aduba (Orange Is the New Black) Millie Bobby Brown (Stranger Things) Samira Wiley (The Handmaid's Tale) Ann Dowd (The Handmaid's Tale) Chrissy Metz (This Is Us) Thandie Newton (Westworld)