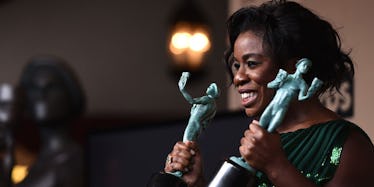 'OITNB' Star Uzo Aduba Had The Most Important Thing To Say About Self-Worth
REX
Who were you at age 18? A popular kid, consumed with sports, or a laser-focused college student? No matter your role, you were probably devoting a lot of hours into blowing every social interaction into drama.
If I could write and mail a letter to my teenage self, I'd probably ask her to consider how much time she's wasting on petty silences and being forlorn over her crushes. College only happens once, and I spent most of the first year being bewildered.
I'm not alone, either. As part of a recent feature, Teen Vogue asked "Orange Is The New Black" star Uzo Aduba to read a letter to her 18-year-old self on camera. Aduba, best known for playing Suzanne Warren, has surprisingly compassionate things to say to her younger self.
Aduba asks her former self to focus on becoming a woman supported by a network of female friendships because they'll carry her through the toughest times. To work hard because her dreams are about to start coming true.
Most importantly, however, Aduba gave herself a little pep talk on the subject of self-worth. Unless you were a totally different kind of freshman than I was, this is one you probably could have used.
Don't you feel a little better about the world just reading those words? All of us had mothers, sisters and best friends who tried so hard to explain how much we meant to them. In the end, though, we needed to learn about the importance of self confidence on our own.
Aduba's impassioned words provide a reminder that you've come a lot further than it seems sometimes. Never forget that you're loved, supported and, in the star's words, a goddess. You go, girl.
Citations: Uzo Aduba Talks to Her 18-Year-Old Self (Teen Vogue)