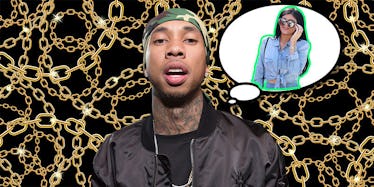 Don't Worry, Everyone: Tyga Won't Be Arrested After All
REX/Shutterstock
OH, JEEZ, GREAT NEWS, YOU GUYS: EVERYONE'S FAVE MEMBER OF THE MANGLED BALL OF POUTY MOUTHS, WAIST TRAINERS, SELFIES AND CARELESSLY DISCARDED BALMAIN THAT IS THE KARDASHIAN/JENNER EMPIRE IS STAYING OUT OF JAIL.
What do you mean Tyga isn't your favorite "Keeping Up with the Kardashians" ensemble member?
OK, wow, so I guess you won't even care when I tell you he reached a settlement with his former landlord, and according to E! News, there is no longer a warrant out for the 26-year-old rapper's arrest.
The warrant was originally issued when T failed to appear for a court hearing for his eviction case earlier in the week.
Court documents reportedly claim Tyga initially agreed to pay $16,000 monthly to live in the house, but ceased payment three months into his stay.
Apparently, after the "1 of 1" rapper deserted the home, his landlord discovered over $480,000 in property damages.
Fans on Twitter are happy for T, sort of, though they're mostly curious how he got into this mess in the first place.
So Tyga almost went to jail over not his landlord why are these celebrities renting? — Shaye (@AlwayzShaye) August 12, 2016
Phew, guys, at least we can relax now knowing Tyga is free to continue partying with his on-again lady love, Kylie Jenner, for her 19th birthday extravaganza.
Citations: Tyga Reaches Settlement With Landlord in Eviction Case, Arrest Warrant to Be Revoked (E! News)