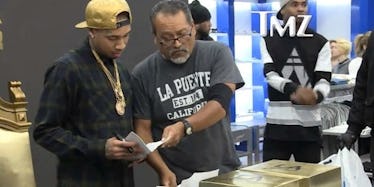 Tyga Gets Served Legal Papers During His Sneaker Release And Signing (Video)
Tyga got served!
The rapper was hosting a sneaker release party in Hollywood when a man asking for his autograph handed him legal papers.
The guy who served him waited in line for two and a half hours just to hand the papers to Tyga. He also purchased two pairs of the sneakers at $120 a piece.
Not only did the process server get Tyga's autograph, he also had the nerve to take a photo with him after handing over the legal documents. That's a ballsy move right there.
It's unclear why Tyga was being served, but apparently, he owes someone money for some undisclosed reason.
You can see the whole ordeal in the video above.
Citations: Tyga Sneaker Release Party RUINED By Sneaky Process Server (TMZ)