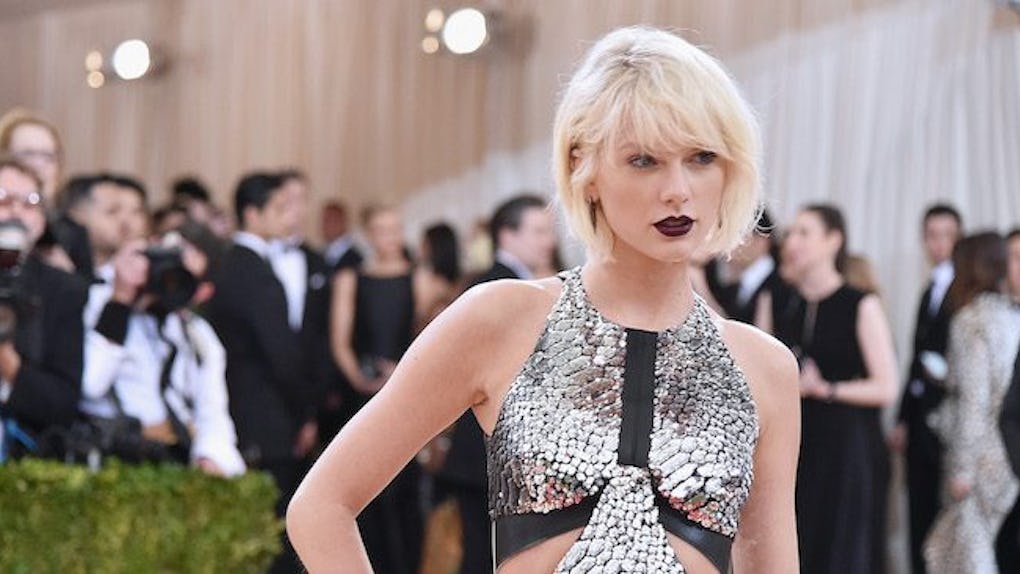 Mike Coppola/Getty Images for People.com
Tweets About Taylor Swift's Makeover Say She Looks Just Like Jenny Humphrey In The 'Look What You Made Me Do' Video
Taylor Swift is edgy now, everybody. Say goodbye to those simpler days of red lips, knee-high stockings and teardrops on her guitar. Make way for long gold nails, diamond bling, and sitting on a swing looking all angry and coquettish. A preview from Swift's upcoming good-girl-gone-bad music video "Look What You Made Me Do" dropped on Aug. 25, and although I applaud the effort that went into this big, sweeping identity change, sadly it turns out this has all been played out before. Namely, Taylor Swift's makeover looks like Jenny Humphrey from Gossip Girl – and the internet is having a field day with it.
For those of you who are a little rusty on your Gossip Girl character arcs, Jenny Humphrey (aka Little J) starts out the series as a wide-eyed freshman who desperately wants to get in with Blair Waldorf and her popular Upper East Side crew.
Fast-forward to a few seasons later, and she's abandoned her good girl image, is rocking a long weave, edgy make-up, dark clothes and a serious 'tude. So basically, if there were a soundtrack to Little J's life, it would start out with Swift's achingly adolescent "Fifteen" and end with "Look What You Made Me Do" – probably being scream-sung at Blair.
Twitter users were quick to call out the spot-on similarities between the two.
This actually isn't the first time that Swift has gotten Little J comparisons.
Back in 2016, the pop singer traded in cable knit sweaters for bleached blonde hair, chokers and ripped black jeans – paying indirect homage to our favorite rebellious Upper East Sider.
As if stealing Little J's moment wasn't enough, the Beyhive are also up in arms that Swift copied the style and general aesthetic of Beyoncé's "Formation" music video – which also featured dancers, decked out in shorts and tights, standing in a pretty similar pose.
That argument is definitely not without merit.
Will we discover that T.Swift has gone full Beyoncé when her "Look What You Made Me Do" music video drops at the VMA's on Aug. 27th? We really won't know for sure – but all signs are pointing to yes. Until then, Upper East Siders. XOXO.