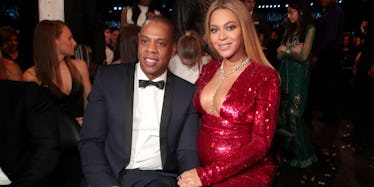 This One Tweet About Beyoncé And JAY-Z's Twins' Names Is Blowing Everyone's Mind
Getty Images
Twitter has been waiting with bated breath to find out the names of Beyonce and JAY-Z's twins, and according to one report, the time has finally come. TMZ reported that JAY-Z and Beyoncé named their twins Rumi and Sir Carter, though the power couple has yet to confirm the news themselves. (Elite Daily reached out to JAY-Z and Beyoncé's representatives for comment on the report and did not receive a response at time of publication.)
Of course, Twitter took this report about the twins' names and ran with it, and people are not holding back their thoughts on the names. Some love Rumi and Sir, some do not, and some are using this as an opportunity to spread hilariously ridiculous conspiracy theories.
One of the best reactions so far comes from writer Justin Kirkland on Twitter, who shared the following image shortly after the TMZ report was released:
Yes, it turns out that if you circle randomly placed letters from an assortment of the songs on Beyoncé's game-changing album Lemonade, you get the words "Rumi," "Sir," and "Carter." Illuminati, is that you???
...Probably not.
Kirkland is clearly joking, but that's what makes this tweet so great. And luckily for those of us who needed a laugh today, some of the replies are just as funny. One person was concerned for Kirkland's arm after making "that reach":
And someone else took the concept of a reach to another hilarious level:
But hey, until Bey and JAY confirm the twins' names and explain where they came from, we have to do the best we can with what they're giving us. Remember when Blue Ivy was born and people became convinced that Ivy stood for Illuminati's very youngest?
At least this time, the conspiracy is tied to Beyoncé's incredible album, and not the overdone Illuminati theories. Although, I'm sure those are coming...