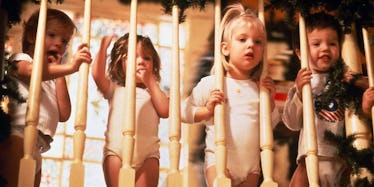 The Triplets From 'Baby Geniuses' Are All Grown Up And Seriously Hot Now
TriStar Pictures
Every once in a long, long while, a horror movie comes along that shakes the genre to its foundation.
This year, "Get Out" did just that by combining comedy and horror in a statement-making, socially conscious masterpiece.
In 1999, the film that gave terror a new name was "Baby Geniuses."
If you've never seen "Baby Geniuses" and value your ability to sleep through the night, skip it. You've made it this long without permanently damaging your psyche, so you might as well maintain that hot streak.
For the reckless among us with nothing to lose who missed "BG" the first time around and want a test drive, check out the trailer here:
Terrifying.
Call me a traditionalist, but babies should not be talking in full sentences, properly utilizing sarcasm or punching people in the face with enough force to cause serious injury... or hanging out with Kim Cattrall.
The film's lead child monster, Sylvester, was the most bone-chilling baby of them all.
This week, BuzzFeed tracked down the Canadian triplets who played Sylvester.
Myles, Leo and Gerry Fitzgerald (what are the odds that's short for Gerald Fitzgerald?) are 23-year-old ex-child actors who now spend their time on the ice, slapping away wretched "Baby Genius" memories with their hockey sticks.
The trauma of being involved in a film that falls just short of scarring its viewers on the level of witnessing rodent cannibalism, inspired its leads to commit fully to life in sports, harnessing their potentially life-ruining memories to achieve athletic victory.
Thankfully, it seems like the Fitzgerald boys have managed to live a somewhat normal life, despite everything that happened in the '90s... so just "Baby Geniuses," really.
They love their mom.
They love their puppy, Max.
They love giant beers.
It looks like these boys are going to be just fine, especially considering their un-erasable past as purveyors of unadulterated horror.
Citations: The Triplets From "Baby Geniuses" Are Ridiculously Hot Now (BuzzFeed)