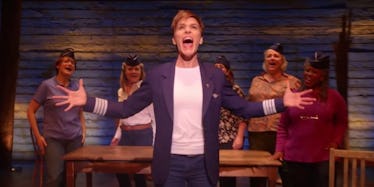 Tony Nominees Share How 'Come From Away' Inspires The Families Of 9/11 Victims
YouTube
The Tony Award nominees were announced Tuesday morning, and among the four nominees for Best Musical is "Come From Away," the first-ever Broadway musical about the September 11, 2001 terrorist attacks.
My first thought when I heard about this show was, "A 9/11 musical...? Seriously...? That sounds really depressing and inappropriate." But this show is the opposite of that.
And get this: It's not set in the US.
Nope, "Come From Away" is the story of a small town in Canada called Gander. The town has a really small population and a really small airport.
When the US air space was shut down as a result of the 9/11 attacks, the other planes still up in the air had to land somewhere, but they couldn't land in the US.
As a result, 38 planes had to land in the small town of Gander, Newfoundland, making the town's population nearly double in size and leaving the passengers on the plane and the townspeople completely at a loss as to what to do next. And that's the story "Come From Away" tells.
Irene Sankoff and David Hein wrote the book (the script) and created the music and lyrics for the show. They're also married, have dual citizenship in both Canada and the US and were living in NYC on September 11.
At a press junket for Tony Nominees Wednesday morning, they explained what inspired the creation of this story and how audiences have been reacting to it.
"We didn't want to tell a 9/11 story; we wanted to tell a 9/12 story," Hein said. The cast consists of 12 actors who all play more than one character, and every character is based on a real person who was either on one of the 38 planes or a townsperson in Gander.
The major emotional appeal of the show lies in the fact that just about everyone in the US has a vivid memory of what they were doing on September 11, 2001. But "Come From Away" aims to teach us that it's not just Americans who have vivid memories of that day.
The show had runs in Seattle, DC and Toronto before moving to Broadway this season, and throughout all of them, Hein said they learned one major lesson. He said,
More than anything, what we learned was that this is a universal story. It's not just a little Canadian story, and it's not even just an American story. It's actually a universal story that reminds us of what it was like to be living here at that time, the kindness that we saw and the feeling... that brought us together.
Irene Sankoff added, "When we saw how passionate people were... how strongly they reacted to the story, we knew it was an important story to tell."
The show was in the middle of its run in DC when Sankoff had her most profound encounter with an audience member. She said,
When we were in Washington, DC, we were fortunate enough to be taken on a tour of the Pentagon by someone who had survived the attack and who had also lost a sister that day. And she came to see the show in Gander. She flew from DC to Gander because she wanted to meet the people, she wanted to be there and witness what it was like for this town and to see the show that is about that. And I just remember being at a dinner, and from across the room seeing her and she's got a smile on her face the entire time that she was there. She still wants to see the show in New York, she's coming soon, actually.
When asked about how New York audiences, in particular, react to the show, director Christopher Ashley said,
The audience gets more emotional, quicker [in New York]. I feel like the audience brings such their own story to the theater, and they're watching our show to build onto their own story. And when you talk to them afterwards, they all want to tell the story of where they were [on 9/11].
"It resonates here in a way that I don't think it's resonated anywhere else, even in DC," producer Sue Frost said.
The creative team often speaks to audience members after the show is complete to see how they feel. They've spoken to family members of 9/11 first responders who lost their lives that day, and they even did a special performance for survivors from the NYFD and their families just before the show opened on Broadway.
The reaction in DC was "fantastic," according to Randy Adams, another one of the show's many producers. He continued,
We had a special private performance with the survivors of the Pentagon and their families, which was amazing. But the greatest thing they said to us was, 'Thank you for telling this story. Thank you for making sure people know what was going on in the world that day.'
Adding onto his point, Frost says, "the response from the audience is really quite extraordinary. I sit in the back of the house every night, and there's this roar [at the end]."
This roar from the crowd is the product of the emotional roller coaster that is "Come From Away." The pace of it all is unrelenting; the music hardly allows you a break for applause.
So when the lights go off at the end, the audience finally gets to release their emotions after over an hour of vivid memories flooding through the minds of everyone in the audience.
One of the show's leading ladies, and now Tony Nominee, Jenn Colella says the roar is insane at the end. She said,
Our curtain calls have been exhilarating. There's a wall of sound, and love, and generosity and gratitude that comes at us each night. You hear the cast — we kind of make a noise, like, 'woah' — like you can feel it come at us. The very few applause breaks I think is helping us at the end because they [the audience] want to show us their gratitude for what they've experienced. It's really wonderful.
Above all else, "Come From Away" is about the kindness of strangers who opened their homes to those in the face of tragedy, and how we all need to welcome those who are fleeing from danger with open arms instead of blocking them from safety.
In other words, an extremely timely message for our current global climate. It takes one of the biggest tragedies in American history and turns it into a story of different worlds coming together to inspire hope, despite all odds.
So if you were worried about the fact that a 9/11 musical was now on Broadway, don't be.