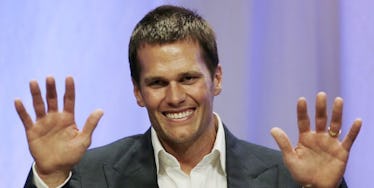 Tom Brady Wants You To Pay $78 To Eat Broccoli And Turnip Cakes
REUTERS
Want to score touchdowns, have sex with super models and be a fit millionaire? Then you should try out some of Tom Brady's $78 MEGA MUSCLE TURNIP CAKES!!!!!!!!!
Super Bowl championship quarterback and all around C- caliber person Tom Brady recently partnered up with Purple Carrot to bring you TB12 Performance Meals.
Think Blue Apron, but more focused on performance enhancement and is completely unable to beat the Giants in the playoffs.
IN YOUR DAMN FACE, BRADY! YOU AND YOUR DUMB WHITE BOX OF FOOD, MRS. BELICHICK!
According to the website,
Whether you're looking to maximize your performance on the playing field, get in better shape, eat more cleanly, or just want to enjoy the same meals that power Tom Brady's championship-caliber performance, incorporating TB12 Performance Meals into your weekly routine is a step in the right direction. The TB12 philosophy is focused on preventing injury and promoting accelerated injury recovery through holistic, whole-body wellness, incorporating exercise, recovery, and hydration & nutrition concepts like those expressed in TB12 Performance Meals.
Tom's stupid meals (I hate Tom Brady, by the way... I don't know if that was made apparent yet) are considerably healthier than Purple Carrot's normal offering.
His meals are all lower in refined sugar, higher in protein and completely gluten free. Customers receive a box every week with three meals for two people for $78.
That comes to about $13 a meal. (Average Purple Carrot meals tend to cost between $8 and $12.)
Don't get too excited just yet. This is a sample meal:
Enjoy your $78 turnip cake! Feeling kind of parched? Dunk dat cake in a yogurt bath!!!
If you're wondering whether or not Tom actually eats this stuff, the answer is a resounding, "YES, SHUT UP."
In the website's FAQ section, one of the Qs (that is asked enough to be put up there) is whether or not Tom actually eats this stuff. Their answer:
Yes! These recipes are either taken directly from plant-based meals Tom and his family have personally enjoyed, or are inspired by the TB12 nutritional guidelines that structure Tom's diet. The recipes feature fresh, whole foods and are nutritionally balanced. All recipes are approved by the TB12 team before being added to the menu.
This isn't the first time Brady has released something like this. Last year his $200 nutrition manuals and $50 snack packs sold out in record time online under his TB12 brand.
A lot of the meals for his partnership with Purple Carrot are actually inspired by his nutrition manuals.
TL;DR: Tom Brady sucks.
That was the only thing you were supposed to get out of this article.
Citations: Tom Brady's $78 meal kit is all about eating your vegetables (CNBC)