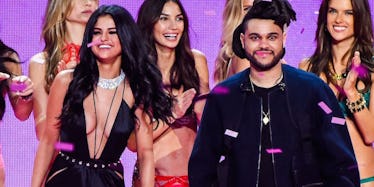 There's A Theory The Weeknd And Selena Gomez's Relationship Is Completely Fake
REX/Shutterstock
Are Selena Gomez and The Weeknd actually going out or is this one big PR stunt for a music video?
Earlier this week, the internet almost broke down after pictures of Selena Gomez and The Weeknd making out surfaced on the web. YEAH, THAT Selena Gomez and THAT The Weeknd.
Feel free to rent out a sound proofing studio before taking a look at the pictures that were snapped of the two going mouth-2-mouth with each other because you WILL be screaming very loudly.
WHAT THE CHRIST IS GOING ON?!?!?!
The issue is, the pictures taken are a little too great, and the timing is a little too perfect.
Let me explain.
For starters, the pictures leaked yesterday, the same day The Weeknd tweeted this.
You want to tell me The Weeknd making out with Selena Gomez just HAPPENED to happen 24 hours before the "Party Monster" video is set to drop?!?! DO I LOOK LIKE MY EYES ARE COVERED IN POOPS?!?!
Secondly, people are speculating the following lyrics from "Party Monster" were actually about Selena the entire time.
And I've seen her get richer in the pole I've seen her, I knew she had to know I've seen her take down that tequila Down by the liter, I knew I had to meet her Ooh, she mine, ooh girl, bump and grind Ooh, she mine, ooh girl, bump a line Angelina, lips like Angelina Like Selena, ass shaped like Selena
So, we're just supposed to believe Selena and The Weeknd just HAPPENED to drop pictures of them making out the day before he is set to release a music video for a song that was inspired by her?
WAKE. UP. SHEEPLE.
The internet isn't buying it and neither should you.
SOoooOOooOOooO, WHAT IS GOING ON, YOU FREAKING TEASES?!?! IS THIS A THING OR WUT?!!