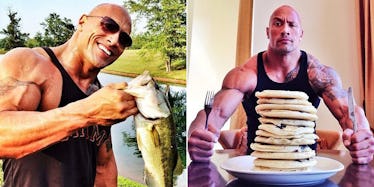 WTF? The Rock Eats 7 Meals Every Day And 821 Pounds Of Cod Every Year
Twitter
The Rock is no ordinary human being. As such, he does not have an ordinary diet.
The Rock recently shared his insane meal plan in Muscle & Fitness.
According to his plan, The Rock eats approximately 10 pounds of food on a daily basis. His diet includes a considerable amount of animal protein from sources such as steak, chicken, eggs and cod.
Cod seems to be one of the major staples of The Rock's diet. He eats around 1,000 calories of cod in a given day. And he devours close to 821 pounds of cod a year. That's a lot of cod!
Of course, The Rock also exercises for extended periods of time throughout his day. Basically, the guy is a superhuman beast. Hell, he eats more than seven meals a day.
The numbers are simply mind-boggling, but take a look at this chart to get a sense of The Rock's diet.
Citations: Dwayne The Rock Johnson Eats Pounds Of Cod Per Year (FiveThirtyEight)