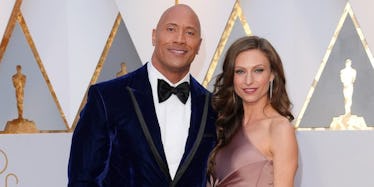 The Rock Wins Best Dressed In Sexy Blue Velvet Suit At The 2017 Oscars
REX/Shutterstock
Dwayne "The Rock" Johnson just defended his 2016 Sexiest Man Alive title with his Oscars 2017 look.
That delicious slab of buttery dude meat graced us with his broad shoulders and billion-dollar smile Sunday night in a blue, velvet jacket.
The Rock is no stranger to velvet. The actor wore a red number to last year's Golden Globes.
Dwayne looked like the midnight sky walking down that red carpet, and frankly, we could all lay in the grass and stare up at him until dawn while we wish upon the twinkles in his eyes.
As he appeared on-screen to talk to commentator Michael Strahan, my co-worker, Steph, sighed,
He's so pure.
So pure, Steph. So pure and so gorgeous, with arms that look like a basket of glazed hams.
He's modest, too. After PEOPLE dubbed him SMA, he told the magazine,
I said, 'That's awesome.' And then what went through my mind was just how cool and exciting it is… And then I thought, 'Wow, we've pretty much reached the pinnacle.' I'm not quite too sure where we go from here. I've done it all, this is it.
That's hilarious. The Rock knows no pinnacle. There is no limit to the wonders he can achieve or the beauty he can possess.
May Baby Jesus bless him for passing along his flawless genes to a new generation to the benefit of not only himself, but all of humankind.
He said,
I've made big, sweeping changes in my career over the years, which have served me nicely… But I feel that the big, sweeping changes that happened in my life, in my relationships, of being a dad, of being a partner, and the things that I was and the things that I am, has really lent itself to a confidence.
STOP. YOU ARE TOO PERFECT. WE DO NOT DESERVE YOU.
Indeed, Dwayne. We are welcome. We are the most welcome. Keep shining, you gorgeous, kindhearted enchanter.
Let us touch your forearms? No, too much. Got it. Fair.