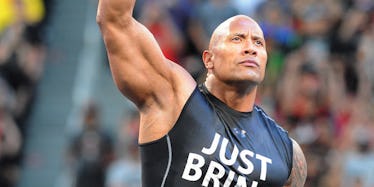 The Rock Was Named 'Sexiest Man Alive' And These Pics Prove He Earned It
REX/Shutterstock
As far as calendar years go, most agree 2016 was the WOAT, or, at the very least, the WORH*, which is precisely why Dwayne "The Rock" Johnson's fresh status as PEOPLE's Sexiest Man Alive is so necessary right now.
He's sexy. He's sweet. He has a dog, probably. You get it.
Of receiving the honor, the actor told PEOPLE,
I said, 'That's awesome.' And then what went through my mind was just how cool and exciting it is... And then I thought, 'Wow, we've pretty much reached the pinnacle.' I'm not quite too sure where we go from here. I've done it all, this is it.
Personally, I'm convinced Dwayne is incapable of peaking. His existence is an exponential rise to sainthood, or a 40-year run as Sexiest Man Alive, whichever comes first.
If you've spent the last few months using your Rock Clock app to rise and shine, you may have wondered in your earliest conscious moments each day, "What's his story?"
Dwayne told the magazine he stirred up quite a bit of trouble growing up in Hawaii.
The former WWE champ admitted,
I was doing a lot of things that I shouldn't have. I was getting arrested multiple times, but at the same time, always very respectful to my teachers and elders. I was unsure of who I was and who I wanted to be.
That's right, he's a bad boy with a heart of gold. Can you smell what The Rock is cookin'? Because it's a hearty Beef Bourguignon and, don't worry, the alcohol from the red wine cooks out when the sauce is simmered.
A major part of what makes Dwayne so face-meltingly hot — besides his face and his shoulders and his butt and his mouth and the fact his back looks like Paradise Falls from Pixar's "Up" (just imagine his spine is the waterfall… there you go) — is his fearlessness.
Over the past 20 years, the father of two has never shied away from a risky career shift, or a major personal commitment.
He said,
I've made big sweeping changes in my career over the years, which have served me nicely… But I feel that the big sweeping changes that happened in my life, in my relationships, of being a dad, of being a partner, and the things that I was and the things that I am, has really lent itself to a confidence.
Committed Dwayniacs know this cool confidence isn't for show. The 44-year-old routinely shares his real life with fans over Twitter and Instagram.
The "Moana" star told PEOPLE,
I think with a lot of my fans, I've gotten to a very, very cool place where there's a direct line between the man they know off-screen and the man they see on-screen.
Frankly, it doesn't matter whether Dwayne is on-screen, off-screen, in a dumpster behind the local Shop Rite, at the top of a winding staircase at a Southern debutant ball, buried alive in a public park, sleeping in the basket of a hot air balloon or running through Central Park, freeing all the carriage horses.
He is 2016's (/eternity's) Sexiest Man Alive, and the world is READY.
* Worst Of Recent History
Citations: Dwayne 'The Rock' Johnson Is This Year's Sexiest Man Alive! (PEOPLE)