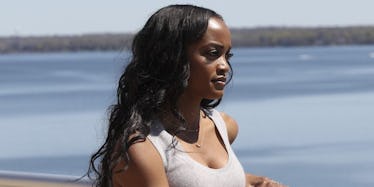 'Bachelorette' Rachel Gives Out Her First Fantasy Suite Card & Fans Are Shocked
ABC/George Burns
We are inching so close to the end of Rachel Lindsay's season of The Bachelorette. The feelings are getting so, so real... or more dramatic. Lindsay surprisingly gave her first fantasy suite card to none other than Eric, the real underdog of the season.
Eric is a sweet, humble, and honest guy. However, fans aren't feeling him as hard as Bryan and Peter. Even though he doesn't have the smooth-talking charisma or adorable gap-tooth smile, Eric has a lot going for him.
Eric does have a big fan base.
He definitely relished every minute of receiving the fantasy suite card.
A night in the fantasy suite gave him a whole new confidence.
It made a man out of him.
Some people still weren't into him. #DontHateCauseYouAint
Do you see what he did there?
Eric is definitely a man with layers. Early in the season, he had a conflict with Iggy and flipped his sh*t. He infamously screamed, "MY NAME IS IN YOUR MOUTH!" over and over again during Episode 3.
After that, people were a bit unsure about him. However, he has quickly become the unsung hero of the season.
Once the mild freak-out came, his true self could finally shine. He's actually a really funny guy. Every date he's been on with Rachel has gone well, and he's super upbeat and always down to have a good time.
Rachel's biggest concern is that Eric is 29 years old and has never been in love. His longest relationship has been eight months, but how can you judge someone on that? Maybe he's picky.
As of now, Eric and Rachel have met each other's families and spent the night together in the fantasy suite. I would say things are going very well for them.
The Bachelorette: Men Tell All airs on July 31. This means we'll have to wait until August 7 to see what happens next. Be sure to check out the new episodes at 8 p.m. ET on Mondays on ABC.