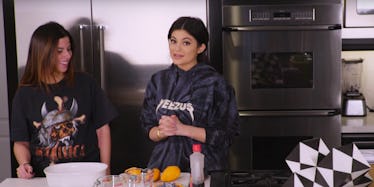 Here's The Ultimate Thanksgiving Menu Based On The Kardashians' Recipes
Youtube
Thanksgiving is rapidly approaching. On Thursday this week, we'll all be centered around a table, filled with family and friends, and thinking to ourselves, "Eh... this food could be better."
I love my family, but Thanksgiving is a trial of errors -- we've forgotten to thaw out the 21-pound turkey, we've burnt the pudding for the chocolate pies exactly four times and every year, without fail, we hear, "Oh, my god, I forgot to put the rolls in the oven," halfway through dinner.
Our cranberry sauce? It is can-shaped.
Fortunately, the Kardashians have some tricks to make Thanksgiving not become an epic fail. We're thankful for that.
Kourtney Kardashian posted a really solid recipe for cranberry sauce. An added bonus? It takes about 15 minutes to make.
Her recipe is as follows:
Ingredients 1 cup water 1 cup organic brown sugar 12 ounces of fresh organic cranberries 1/2 teaspoon freshly grated organic orange zest Instructions 1. Bring the water and organic brown sugar to a boil, stirring occasionally until sugar is completely dissolved. 2. Add fresh organic cranberries and bring to a simmer, stirring until berries burst, for 10 to 12 minutes. 3. Mix in organic orange zest, then cool. 4. Refrigerate until needed (will last 2 days).
Meanwhile, Khloé isn't such a wiz in the kitchen. She finally admitted she has no idea how to make stuffing, writing,
I've never made stuffing before but someone asked about it, which means now I have to make it! I just don't really get stuffing. I mean why would I eat wet, stale bread? LOL. All of the recipes I Googled have bacon in them though so, since I don't eat pork, I'm going to have to do some tweaks. So I don't know how it's going to turn out!
I mean, when you have a show called "Revenge Body" coming out, "wet, stale bread" probably isn't on your menu. In fact, at least she's giving it a go...
Kendall is under the impression that it may be a waste of time to make a traditional dinner so she has some sushi recommendations instead.
Thankfully, Kylie Jenner is picking up the slack of her sisters by coming through with some CANDIED YAMS, YA'LL. She said,
I love to cook, and I'm going to start showing you guys how I make some of my favorite dishes.
Of course, no Thanksgiving is complete without the dishes looking fucking flawless. It is the one time of the year I get to prove to my family that yes, I do have it together and not only that, but I can totally do my hair, too.
Kim Kardashian's friend Jen Atkin showed us how to get her perfect curls. She said the breakdown is as follows:
Davines Volu Hair Mist - $36 For Kim's soft textured waves look, first prep damp hair with Davines Volume hair mist, starting from the roots to the ends. Dyson Hairdryer - $400 Blow-dry smooth, using Dyson blow dryer and a GHD round brush. Hot Tools Curling Iron - $40 Curl hair using the Hot Tools curling iron, leaving the last 2" of hair out of the iron. This will give you a more casual, textured look. Ouai Texturizing Spray - $26 Spray Ouai texturizer from the roots to the ends for added body and volume. Ouai Finishing Crème - $24 Finally, apply Ouai finishing cream to the ends to hold the curls in place.
If only we could be a part of this family's celebration instead of our own this Thanksgiving.
Citations: WHAT'S ON MY THANKSGIVING DINNER MENU (Khloe With A K), Homemade Cranberry Sauce (Kourtney Kardashian), MY INFAMOUS CANDIED YAMS (The Kylie Jenner), WHERE I GET SUSHI AROUND THE WORLD (Kendall J), MY 3 FAVE KKW HAIRSTYLES OF ALL TIME (Kim Kardashian West)