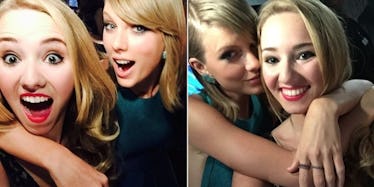 Taylor Swift Tracked Down A Fan To Bring Her Backstage At The Grammys
Taylor Swift is probably the only pop star who stalks her own fans like they stalk her.
Swift is well-known for her Tumblr lurking, commenting on posts dedicated to her and counseling fans on heartbreaks.
And she took those skills to a new level at Sunday night's Grammys. Swift had her publicist seek out LA-based superfan Jill Ralke, who'd written on Tumblr about her plans to attend the awards.
In an update to her blog titled "Best Day of My Life," Ralke recounted the whole night: how she sat near Swift, saw her publicist approach and was brought backstage to meet the pop star (and, incidentally, Grammy winner Sam Smith).
Swift was enthusiastic and kind, asking to take selfies with Ralke and her boyfriend and telling them how good they looked together.
The awed fan even had the chance to hand Swift a letter she'd written about the singer's influence in her life.
Ralke later wrote,
I felt like we were friends. I didn't feel nervous or emotional, I felt like I could tell her everything. It made me so happy to feel like that. I honestly just wanted to go out on that stage with her and party with her.
Swift's biggest fan posted about attending the Grammys, and the singer herself responded.
The pair took a set of selfies together.
Ralke handed Swift a lengthy letter she'd written.
Swift, who's well-known for surprising her fans, really topped herself this time around.
She's made Ralke's life a little brighter.
Citations: Taylor Swift Stalks Fan on Tumblr, Tracks Her Down at Grammys for Selfies (Ryan Seacrest)