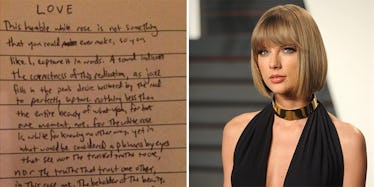 Taylor Swift's Stalker Wrote Her Creepy Poetry Before Showing Up At Her House
Twitter/REX/Shutterstock
If you have a huge crush on a celebrity, bombarding them with heartfelt poetry on Twitter is NOT the way to make them your bae.
But that was the tactic Taylor Swift's obsessed stalker tried. He took to Twitter on Valentine's Day to tweet a bunch of creepy poetry to the singer.
Mohammed Jaffar's tweets came about a week after he was caught wandering the hallway of T-Swift's building, in the hopes of meeting her.
But this wasn't the first time the obsessed fan had reached out to the singer according to TMZ, who unearthed a series of creepy tweets.
Like this one, where he hints he tried to get into her building so he could bring her candy:
Not cool, dude.
The 29-year-old's tweets stretched as far back as 2014, and he was finally arrested on March 6.
The arrest came after Jaffar allegedly called Swift 59 times between January 27 and February 16, and twice turned up at her home, where he persistently rang her doorbell.
I mean, the poetry speaks for itself.
"Why not save those fiery passions for one as cold as I?"
This one was actually titled "Love."
His campaign seems to have increased in intensity in February.
He sent her a bunch of weird tweets, including one where he told her, "I need to meet you tonight."
Receiving a barrage of scary tweets is bad enough, but Jaffar was finally arrested when he somehow gained access to the luxury building in which Swift lives in NYC.
He reportedly found her $20-million penthouse and rang the doorbell for an hour straight, before returning the next day and ringing it for another 45 minutes.
In total, he made his way to the building five times between December and February.
Jaffar was arrested for burglary and stalking, and is being held on a $20,000 bond.
He has also been handed a restraining order in order to prevent him from contacting the 27-year-old singer.
Citations: Taylor Swift Stalker Poetry (Twitter)