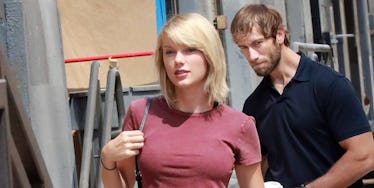 People Can't Stop Photoshopping This Hilarious Picture Of Taylor Swift
Imgur
I love a good photoshop war, and this one of Taylor Swift walking in front of a creepy dude staring her down takes the cake.
A Reddit user started the battle a few days ago and hilarity ensued. Naturally, a lot of people posted NSFW photoshopped versions of the original photo and, of course, there were plenty involving Kanye West and Tom Hiddleston.
Here's the original image, just in case you haven't seen it:
Of course, we got the staple face swap.
This is mostly charming and a little off-putting.
Here's a pic of Taylor Swift's new squad!
And, of course, we can't forget about Tom Hiddleston. A Reddit user turned this into a Marvel movie scene with the creepy dude as Loki and Taylor as Thor.
Yeah, some Reddit users went there.
Obviously, we can't forget about Kanye.
This is my new favorite meme. Taylor, you better watch your back! You can see all of the photoshop masterpieces in the full thread here.