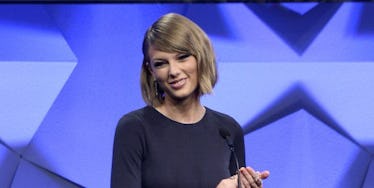 Taylor Swift Made A Big Donation To Hurricane Harvey Relief, And We're Applauding
Frazer Harrison/Getty Images
As Houston residents continue to deal with the aftermath of Hurricane Harvey, people across the world are stepping in and donating what they can. It's incredibly heartening how many contributions – big and small – are pouring in, including a number of hefty donations from some A-list celebrities. Taylor Swift's donation to Hurricane Harvey relief was apparently through the roof – which is incredible, and I forever ban anyone from using that stupid snake emoji about her again.
The Houston Food Bank took to Facebook on Sept. 1 to thank Swift for contributing, saying,
Taylor Swift has generously made a very sizable donation to Houston Food Bank in honor of her mother who graduated from the University of Houston. We thank you, Taylor, and we thank everyone for donating to help rebuild our community. #houstonstrong
While there's no word as to how much the singer donated, given her generous track record I'm sure that it was quite a decent chunk of change. Back in 2016, Swift contributed $100,000 to Dolly Parton's telethon, which was raising money to help victims of wildfires in Gatlinburg, Tennessee and the Smoky Mountains National Park. That same year, she gave a total of $1 million (!!) to three Louisiana-based organizations, after unprecedented flooding hit the state in August.
Oh, and she also face-timed with a terminally sick fan last year as well, and later donated $5,000 to the family after their daughter passed away.
Swift joined a growing list of celebrities who have contributed a generous amount of money to Houston relief efforts, including $1 million from Sandra Bullock, $1 million from Leonard DiCaprio, $500,000 from Kim Kardashian and her family and $500,000 from Miley Cyrus. (Side note: this was the most positive, inspiring sentence that Swift and Kardashian's names have been attached to together in a long time. Brava!)
Some high-profile figures have even taken fundraising into their own hands. As of Sept. 2, Houston Texans football player J.J. Watt's crowdfunding initiative has raised more than $16 million – while Beyoncé, who grew up in Houston, is running her own fundraiser, which will help provide cots, feminine products, blankets, wheelchairs and more supplies, for those in need.
This is all a great reminder that there's plenty of different ways to donate to those in need in Texas, and all donations (no matter what the size!) are so helpful right now. If you need some ideas on the best ways to contribute, check out our suggestions here.