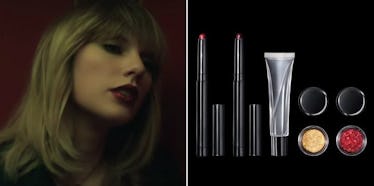 Here's The $60 Glittery Lip Kit Taylor Swift Used For Music Video With Zayn
YouTube/ Pat McGrath Labs
If you haven't seen Taylor Swift and Zayn Malik's seductive new music video for "I Don't Wanna Live Forever," then drop everything you're doing and WATCH IT RIGHT NOW.
Trust me, the singing duo nails the whole "sexy in distress" act, and they've never looked better.
Prepare for sexual overload.
See! They look freakin' incredible. Bravo, hot ones.
I think the only thing that's stealing the spotlight from Taylor and Zayn in the video is Taylor Swift's sparkly lips.
Seriously. The first time I watched, I had to take a moment and pause the video to admire her glistening red lipstick from afar. Its shimmer was fascinating.
It's literally the sparkliest lipstick I've even seen, and I want some for myself.
If you agree, I have wonderful news for you -- because we know where the lipstick came from.
Apparently, it's a part of a lip kit collection by Pat McGrath Labs called Lust 004 in Vermillion Venom. It sounds fierce AF.
At first, I was convinced any gloss worthy of Taylor's lips would cost more than my rent -- but that isn't the case at all.
The lip kit is only $60 on the beauty company's website, and it's giving me faith that my lips can look like Taylor's in the future.
Unfortunately, that won't be happening for a while because the lip kit is currently sold out (bummer, I know).
Luckily, Pat McGrath posted a clip of Taylor in the music video on her Instagram Friday and asked her fans if they wanted a restock of the product.
UM, YES! ABSOLUTELY.
Hopefully, McGrath listens to her fans' enthusiastic response to restocking the product.
Thanks to Taylor, the new glittery lip trend is sure to make us all look like seductive fairies glistening with crimson sparkle on the reg.
Personally, I'm all about it. The more sparkles, the better -- especially if they're on my lips.
Citations: Here's The Exact Lip Kit Taylor Swift Wore In Her New Video — But There's A Catch (Refinery29)