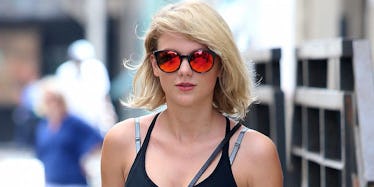 Taylor Swift Thinks Her Home Should Be Considered A Historic Landmark
REX/Shutterstock
Taylor Swift really loves her home.
Like, she's obsessed with it... to the point where she thinks it should be considered a historic landmark, cause you know, it's THAT great.
Lmao. OK, Taylor.
According to the Beverly Hills Courier newspaper, the six-bedroom, five-bath mansion is being examined "at the request of the property owner."
Taylor Swift originally bought the home in September 2015 for $25 million so it's worth more than my entire life. Like, $25 million is a lotttttt of money. Do you know how many cheeseburgers I could buy with that cash?
The property is a total of 10,982 square feet and was previously owned by film producer Samuel Goldwyn.
The "Shake It Off" singer apparently wants to make sure her home will be "preserved," so making it a historical landmark is the way to do that.
Makes sense!
The mansion was built in 1934 so it definitely has some history. The house has a dining room, a gym, a movie theater, a library, a swimming pool and pool house. You can also have guests over and let them stay in the private suite.
If I lived in something like that, I would never leave my house again. I'd also be filthy rich and probably spend all of my money on ordering Seamless and adopting dogs, but that's besides the point.
In addition to her Beverly Hills home, Taylor Swift also owns places in Nashville, New York City and Rhode Island.
Cool! Next time I find myself in Rhode Island (????), I'll hit her up.
By the way, the California mansion is located at 1200 Laurel Lane in Beverly Hills, in case you want to visit. I don't have $25 million to buy it, but I do have an iPhone that takes pics.
Smile for the camera, Taylor! Now let's watch movies and go swimming.
Citations: Taylor Swift Home Historical Landmark (Us Weekly)