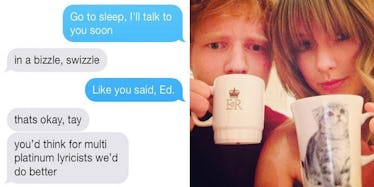 Ed Sheeran And Taylor Swift's Texts Are Even Better Than You'd Expect
You may not know this, but Ed Sheeran and Taylor Swift are besties.
I mean real BFFs, you guys. And what do besties do best? They text!
Taylor recently posted a screenshot of an adorable text conversation between Ed and herself on Instagram.
It's as cute as you might expect. And I'm not just saying that!
The pair apparently text each other before going to bed, and they make jokes about their statuses as multi-platinum lyricists.
Isn't that special?
You can check out their wonderful conversation below.
Citations: What Do Taylor Swift and Ed Sheeran Text About (Billboard)