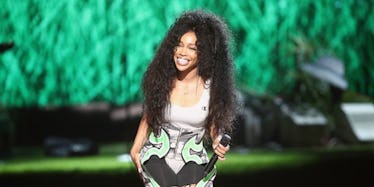 Is SZA Single? Here's What We Know About The Star's Dating Life
Frederick M. Brown/Getty Images
With the release of her new album over the summer, interest in SZA continues to build about the talented singer/songwriter. While she keeps a relatively low profile about her dating life, many fans are curious and asking, is SZA single? Details are few, but let's take a closer look at SZA and see if we can piece together some clues.
During a June 2017 interview with The Breakfast Club, SZA talked about her new album Ctrl, but also dug in a little bit about some past relationships. During the interview, SZA discussed her song "The Weekend," which addresses a guy having a sidechick. The lyrics include:
You say you got a girl How you want me? How you want me when you got a girl? The feelin' is wreckless Of knowin' it's selfish Knowin' I'm desperate Gettin' all in your love Fallin' all over love, like Do it 'til it hurts less
It's worth pointing out that SZA isn't going to straight up reveal much about her dating history, as she explained: "I never really talked about relationships in a direct way. I used to be very metaphorical, very figurative, and also just kind of scared to talk about the way I felt in a literal way."
She added: "All these relationships I'm talking about are over."
The singer further explained, "This album is like a release. Over the last four years, I haven't just been doing music. I've been burying friends, burying family members, burying weight, the way I feel about myself, the way I feel about the world... God, the way I process information. I've just been growing as a human being and I didn't even realize that I was kind of in a box. I was missing a lot of world going on. Singing from my perspective of the world, I felt trapped in myself and around my friends, and around guys. I couldn't explain it. It was weird. I felt very invisible around very many people."
When asked if she's dating anyone now, SZA stumbled over her answer, saying, "Huh?" and giggling, followed by "Um, um..."
She continued, "I feel like right now, I'm in a space where I've never been before in my life and I don't know anything about myself, so I'm learning about myself, and honestly I think I was in a lot of these unhealthy relationships because I didn't have enough self-love built up and I fixed the way I felt about myself so these situations didn't happen to me anymore." She added, "you can't be scared to be lonely."
SZA later revealed that she now talks to her mom about men, which she didn't used to, noting that her mom wants her to be "patient and be loving and understanding, but not take any sh*t." She noted, however, that she doesn't really discuss guys with her friends and instead they "hangout and have fun." She added, "I kinda just keep those thoughts to myself."
In an interview with Complex magazine, SZA explained how she's more open on her new album, saying:
My life has just been falling the f*ck apart. I buried, like, three ex-boyfriends, my granny died, I buried someone two days ago… I'm devastated by the state of the world and the hatred. Some days I feel militant and vengeful. Some days I feel defeated and I actually cry because I just don't understand. Then you start getting biblical, like, 'Why is this happening to my people?' Then you go through, 'It's never going to change, so might as well just go with the flow.' And then you go through, 'No. I'm not asking anymore. I'm going to make it change.'
With a featured guest appearance by Isaiah Rashad on the track "Pretty Little Birds," fans do have some theories about SZA and Rashad, including:
Another fan voiced how devastated they would be to find out SZA is dating:
Check out the entire Gen Why series and other videos on Facebook and the Bustle app across Apple TV, Roku, and Amazon Fire TV.