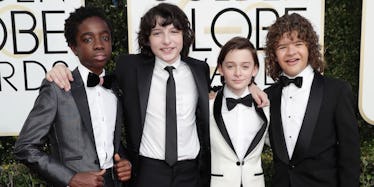 The 'Stranger Things' Kids Are The Ultimate Squad Goals At The Golden Globes
REX/Shutterstock
The highly-anticipated 74th annual Golden Globes are taking place Sunday night, and I literally cannot wait to see who goes home with the gold.
I'm mostly excited to see which stylish looks shut it DOWN on the red carpet.
TBH, one of my favorite things about lavish carpet affairs is to scope out the hottest, most scandalous fashion trends that completely win the entire show.
And I'm certainly not the only one who feels this way… let's just say people are seriously going ham on Twitter already.
There's no better time than a red carpet affair to fall in love with a celebrity's epic fashion statement, or to chuckle over a horrid fashion faux pas.
And it seems tonight people can't stop raving about the adorable boys in "Stranger Things" crushing the red carpet with the ultimate #SquadGoals.
I definitely have to agree with all of the social media hype...
For real though, how freaking cute do these dudes look?!
Major props to the "Stranger Things" crew, aka Noah Schnapp, Caleb McLaughlin, Gaten Matarazzo and Finn Wolfhard.
Young girls around the world must be hardcore crushing on these young stud muffins! Just look at how fly they all look, making #SquadGoals look like it's their job.
I'm absolutely loving the coordinating outfits.
We reported back in December on the "Stranger Things" kids' reaction to their 2017 Golden Globes nomination, and let's just say it defines complete and utter happiness.
Here's the sweet clip, in case the amazing moment slipped your mind…
OH SNAP, and here's Millie Bobby Brown, aka Eleven, looking like a princess on the Golden Globes red carpet.
"Stranger Things" received two nominations, including Best Actress in a TV Drama (for no one other than the incredible Winona Ryder) and Best TV Drama.
I'm rooting for you, "Stranger Things!"